Rio Tinto Gets Closer to Building Game-Changer African Iron Mine
Rio Tinto Group is accelerating work toward potential development of the giant Simandou iron ore project in Guinea, as half-year earnings showed the steel-making ingredient dominated the second-biggest miner's profits.
There's been a longstanding question mark over Rio's stake in the massive African deposit. For years, a cast of owners including Israeli billionaire Beny Steinmetz and authorities in the West African nation fought over rights to develop Simandou. Even with those disputes now settled, Rio must decide whether it's prepared to spend the large amounts needed to extract and transport the super-rich ore from its part of the project.
New studies with Rio's Chinese partners are aimed at cutting the capital intensity, operating costs and development timetable, with some fieldwork to start this half, the London-based miner said Wednesday in an earnings statement. Meanwhile, the Guinean-led and Chinese backed consortium with rights to the other half of the project could be producing within five years.
"Under all scenarios Simandou will be developed, with or without Rio Tinto," Chief Executive Officer Jean-Sebastien Jacques said in an interview Wednesday. "There is a huge incentive for the Chinese to make it happen now."
After years of being largely forgotten by the mining world, Simandou snapped back into the spotlight last year when Steinmetz ended a seven-year dispute with Guinea's government that saw him relinquish claims on half of the mine.
The project's reemergence could have big implications for the iron ore market. Half of the deposit could deliver more than 100 million tons a year of the highest-quality ore, which is increasingly in demand in China. China's State-owned Assets Supervision and Administration Commission, which oversees the biggest government-owned enterprises, is actively pushing forward with the project, people familiar with the situation said earlier this year.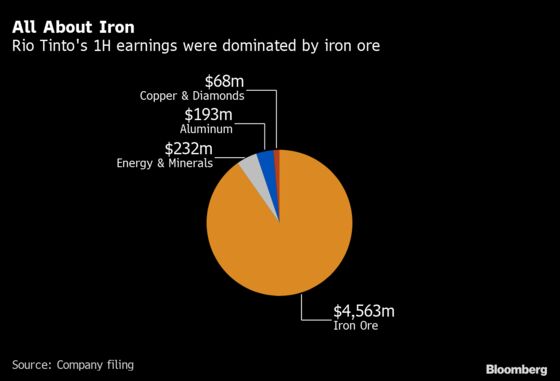 Simandou is divided into four blocks, with 1 and 2 controlled by the consortium backed by Chinese and Singaporean companies, while Rio Tinto and Aluminum Corp. of China, known as Chinalco, own blocks 3 and 4.
The renewed interest from China, as well as new owners for the half not controlled by Rio, means the company will consider options including joint development of the sites or their infrastructure.
"We will look at all options because it is an infrastructure project and scale is important," Jacques said. "I think it's important for people to understand what would be the benefits of putting together 1, 2, 3 and 4."
Rio, which has surpassed Brazil's Vale SA as the top supplier of iron ore, could generate an additional $1 billion in annual revenue by replacing some lower-grade exports from Australia with better-quality material from Guinea, Goldman Sachs Group Inc. analysts including Paul Young wrote in a July 23 note.
Forming a joint venture between two separate projects at the vast site could also cut total capital expenditure by as much as $7 billion, through the sharing of costs for rail, port and power infrastructure, the Goldman analysts said.