Rio Tinto's Iron Ore Stumble Came Just as Prices Surged
(Bloomberg) -- Rio Tinto Group didn't get the full benefits of the dramatic iron ore rally after missteps at key operations in Australia meant the No. 2 producer couldn't extract its best ore when it was most needed.
Rio was forced to cut production at its flagship Pilbara operations in Western Australia earlier this year after falling behind with mine plans. Essentially, the company was producing too much lower-quality iron ore, forcing it to mine less rather than selling a sub-standard product to customers in China.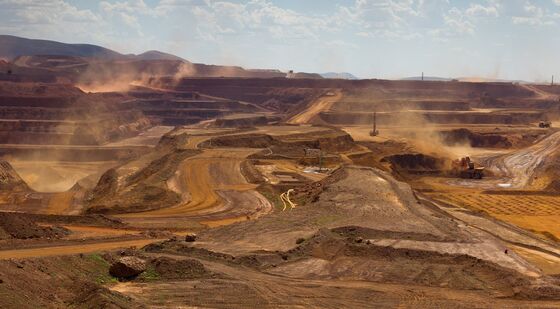 "We couldn't access the right ore at the right time," Rio Chief Executive Officer Jean-Sebastien Jacques told reporters on a conference call. "It is not acceptable."
Rio reported an increase in first-half profit Thursday, fueled by the spike in iron ore prices, and announced a $1 billion special dividend. Still, the benefits could have been much greater. The impact of the sequencing problems -- together with a cyclone and a port fire -- cut output volumes by 8% in the first half.
Meanwhile, iron ore prices jumped more than 60% to a five-year high after the disastrous collapse of a dam in Brazil and operational setbacks at Australian mines.
"That was a lost opportunity from our perspective," Rio iron ore CEO Chris Salisbury said in a phone interview "We have missed out on some volume that we had planned to produce."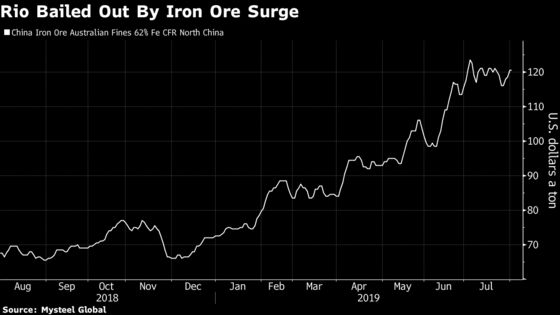 The company encountered issues with mine sequencing, crimping volumes of its flagship Pilbara Blend product, and Rio is rescheduling deliveries to some customers. The setback is a severe hit to a company that prides itself on its mining pedigree.
Rio must now work to win back investors' faith in its ability to operate the normally reliable Pilbara operations after years of cost-cutting at its mines there.
The company will spend about $80 million to address the issue as it adds contractors and equipment to help move larger volumes of material this year and in 2020, Jacques said.
The CEO will visit the the site later this month to meet with Salisbury to review progress, he said.
First-Half Report Highlights:
Underlying earnings rose 12% from a year earlier to $4.93 billion, fueled by the spike in iron ore.
Iron ore profit rose 33% in the first half, while returns from the aluminum, copper and diamond units declined.
The special dividend was part of a total package of $3.5 billion in returns to shareholders.
Investors have been seeking clarity on what the operational issues suggest about the quality of Rio's ore, JPMorgan Chase & Co. analysts wrote in a note this week.
"This is not a quality of Pilbara Blend issue, it is a volume issue," Salisbury said. "We have chosen to reduce the volume to ensure we can continue to produce the right quality for our customers. We don't like to disappoint customers with volumes either."
Rio cut 2019 shipments guidance in June to between 320 million and 330 million tons, down from an earlier goal of 333 million to 343 million tons. The producer will need to boost volumes in the second half to meet the target, and plans to review forecasts for 2020 later in the year, Salisbury said.