Rio Hedge Fund Novus Seeks Fourfold Growth to Reach Big Leagues
(Bloomberg) -- Rio de Janeiro-based hedge fund Novus Capital is preparing to grow nearly fourfold in the next two years on the expectation Brazil outshines other emerging markets and attracts a flood of inflows.
Novus currently manages 1.6 billion reais ($360 million) and has enough traders and analysts to handle 6 billion reais, Joao Feijo, the head of investor relations, said in an interview. The result of a 2018 merger between Modal Asset and Flag Asset, the fund has even greater ambitions: it wants to reach 10 billion reais and join the ranks of Brazil's biggest asset managers. To get there it will need to expand its 23-member team, Feijo said.
Brazil stands out among emerging markets because it's at the beginning of an economic expansion and has the first right-wing government since the country returned to democracy in the 1980s, said Luiz Eduardo Portella, who was previously at Modal and is now a founding partner at Novus in charge of fixed income. Hedge funds have multiplied in Latin America's largest economy over the last few years, and many competitors have already closed popular funds to new investments following heavy inflows.
"That is our target, to compete with the large funds in Brazil," said Portella, speaking from Novus' offices in the seaside neighborhood of Leblon, where many of the city's largest money managers are located. "Brazil is at a moment when there aren't enough portfolio managers for the amount of inflows coming in."
The bulk of new money will go to its flagship fund Novus Macro that invests in stocks, bonds, rates and currencies. The fund came under new management in mid-2018 after the merger, and has beaten 79 percent of its peers in the past three months, according to data compiled by Bloomberg. For investors who can stomach greater volatility, it recently launched the Novus Long Bias fund where it aims to manage about 500 million reais.
Novus expects to see emerging market equities pulling ahead this year as the S&P 500 index goes into decline. The timing of Brazil's economic cycle, recovering from its greatest recession ever, places it in a better position than Russia, Mexico and China.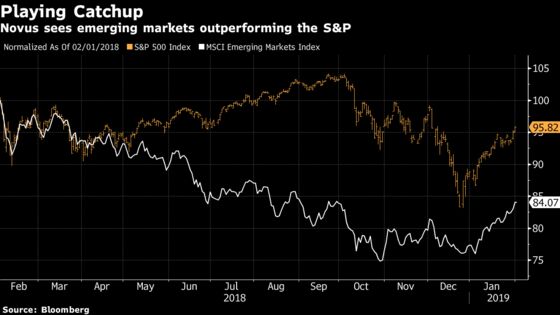 This means cash will be pouring into equities and there is still plenty of money to be made in rates as the long end of the curve comes down. Even if foreign investors remain reticent, Brazilian public pension funds are expected to start shifting more money into the local stock market. Novus sees the real strengthening to 3.50 per dollar in the second quarter if the outlook on pension reform remains positive. The currency is currently trading at about 3.66 per dollar.
Watch Brazil Pension Funds for 'Big Shift' to Stocks, Truxt Says
"If pension funds go to 25 percent in equities, the gringos won't be needed," Portella said. "It's easier to have a large position in Brazil."