Richest Man in Philippines Sees Supermarket Stock Jump 50% on Debut
(Bloomberg) -- Eager retail investors helped make the richest man in the Philippines a little richer on Wednesday.
The AllDay Marts Inc. supermarket venture of billionaire Manny Villar jumped by the daily limit of 50% from its initial public offering price when the shares debuted on the nation's stock exchange. 
This translates to a windfall of about $90 million for Villar and his family, according to calculations by Bloomberg. His net worth already stands at $7.3 billion, the Bloomberg Billionaires Index shows.
AllDay shares rocketed to 90 centavos, from their 60 centavos IPO price, with more than 415 million shares changing hands in the first 23 minutes of trading. This gain comes on top of the 4.52 billion pesos ($89 million) raised by AllDay and Villar's AllValue Holdings Corp. in the initial share sale.
Retail investors flocked to the IPO, attracted by speculation it may replicate rival MerryMart Consumer Corp., which rose by the daily limit in its first three trading days in June last year.
"There's huge demand," says Manny Cruz, a strategist at Papa Securities. "It doesn't look like the price will fall from here. Many are holding their share on expectation of of more gains."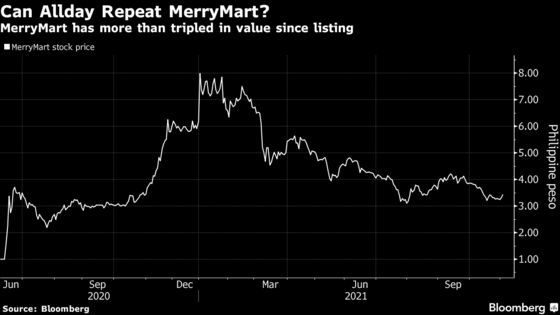 Kahlel Ho, 23, is among retail investors who are holding tight to their AllDay shares on hopes that the stock has further to run.
"AllDay is priced like a penny stock but it's not a speculative stock," Ho said. "It has a reputable investor. It owns assets and has a very promising growth story."  
AllDay is seeking to triple in its network of 33 stores in five years.
The company now has a market value of about 20.57 billion pesos, versus MerryMart at about 26.28 billion pesos. 
MerryMart has climbed to about 3.45 pesos a share, compared with its IPO price of 1 peso. The stock peaked at 8.56 pesos in January.