Rhino Valued at $500 Million With Tiger Global Backing, Eyes IPO
(Bloomberg) -- Rhino, a startup that specializes in deposit insurance, has more than tripled its valuation to $500 million after raising $95 million in an investment round led by Tiger Global Management.
The New York-based company, founded in 2017, aims to tackle housing affordability by making insurance an alternative to traditional security deposits, in which Americans collectively have roughly $45 billion sitting idle, according to Rhino estimates.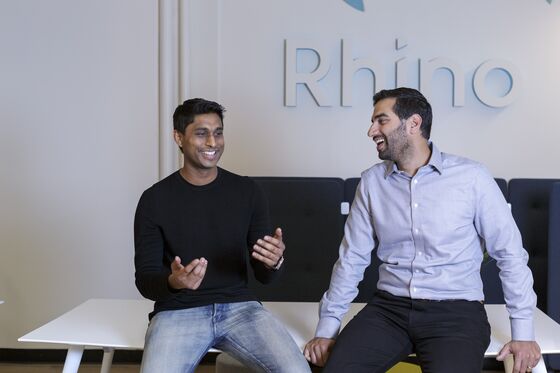 "Security-deposit insurance is still in its early days, but we believe it will become an increasingly popular product for renters," Scott Shleifer, a partner at Tiger Global Management, said in an emailed statement.
Rhino insurance is available to tenants in 1.1 million homes owned or managed by partners including Brookfield Asset Management, TF Cornerstone, Highmark Residential and Lincoln Property Co. Between 50% and 80% of tenants in buildings that offer Rhino sign up for its insurance over time, and its primary customers are millennials, with 74% of all users 39 years old or younger, Rhino Chairman and co-founder Ankur Jain said in an interview.
"We've made a lot of progress but with a total of 43 million rental homes in the U.S., we're still at the tip of the iceberg," Rhino Chief Executive Officer and co-founder Paraag Sarva said. The new funding will help Rhino more than double full-time headcount and broaden offerings to include renter's insurance as well as lending and savings products, he said.
Jain said the company's contracted annual recurring revenue, which grew "explosively" to $60 million from $4 million two years ago, is set to exceed $100 million by the third quarter of this year. It's a similar growth trajectory to insurance specialist Lemonade Inc., which has seen its stock price more than quintuple since its July initial public offering.
Rhino, which counts venture firms Kairos and Lakestar among investors, may pursue an initial public offering as soon as next year, though it's open to conversations regarding a merger with a special purpose acquisition company, Jain said.
The company gained traction in part by championing a "renter's choice" legislation, which has been passed in cities including Cincinnati and Atlanta; and introduced in Baltimore, Philadelphia and on a state level in Tennessee, California and Virginia.
Rhino's insurance is available in all U.S. states except Hawaii, Montana, Wyoming and North Dakota, which are poised to be added this year.
In a suburb of Dallas, instead of a $250 deposit, a Rhino renter might pay $10 a year for deposit insurance. Los Angeles or New York renters can pay $5 to $15 a month in lieu of $1,000 or $3,000 deposits, said Jain. "We want to make it more affordable over time," he added.