Retail Investors Rushed Back to Risk as Stocks Hit Record Highs
(Bloomberg) -- As stocks rallied to record highs last month, retail investors embraced the run.
Clients of TD Ameritrade increased their holdings of riskier assets for a second consecutive month in November. That pushed the firm's Investor Movement Index, which has tracked clients' positioning since 2010, to the highest level in a year, the Omaha, Nebraska-based brokerage said Monday.
"As the market got to all-time highs, our clients started to pick up their pace just a little bit more," JJ Kinahan, chief market strategist at TD Ameritrade, said in an interview. "There might be an expectation of a Santa Claus rally, so-to-speak, as we head into the end of the year."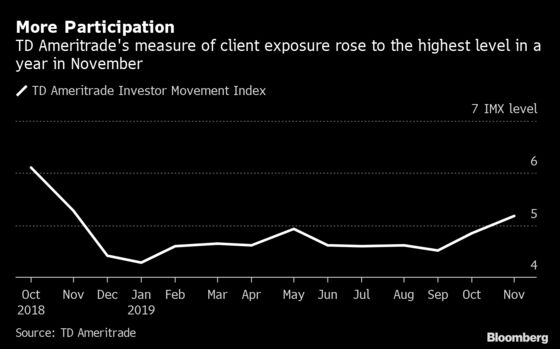 The S&P 500 Index gained for a third straight month in November, pushing the benchmark to a record closing high of 3,153.63 on Nov. 27. Up 26% this year, the gauge is set for its second best year of the past decade's bull market.
Still, the level of risk allocation in TD Ameritrade's measure ranks as "moderately low" on a historical basis, according to the firm. Clients continue to buy short-term fixed income products with maturities of six months or less, Kinahan said. However, purchases of bonds in November weren't as aggressive as earlier this year, and investors are gravitating more toward equities.
Below are some of the most popular buys and sells ordered by TD Ameritrade clients last month:
BUYS: The Walt Disney Co., Microsoft Corp., McDonald's Corp., Ford Motor Co.
SELLS: Bank of America Corp., Citigroup Inc., Tesla Inc., Netflix Inc.