Retail Index Drops for Fifth Day as Gross Margin Caution Spreads
(Bloomberg) -- The S&P 500 Retailing Index fell as much as 3 percent to the lowest intraday level since Oct. 30 as disappointing results and gross margin commentary from a handful of retailers weighed on the sector.
All 27 components of the retail index traded in negative territory, led by Macy's Inc., whose cautious gross margin commentary on Wednesday's conference call was mimicked today by department store peers Dillard's Inc. and J.C. Penney Co. Inc. Walmart Inc., which is not included in the index, also reported a slight contraction in its quarterly gross margin.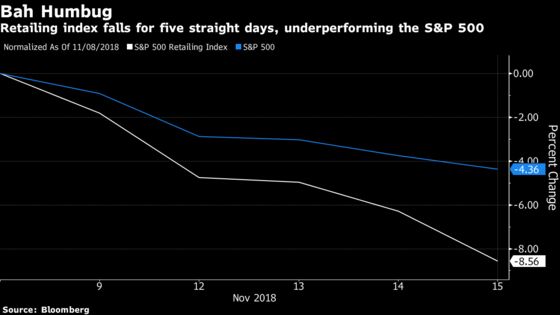 Notable decliners in the retail index include Target Corp., L Brands Inc., Kohl's Corp., and Lowe's Cos. Inc., all of which are expected to report results next week and were down more than 2.5 percent.
Higher expenses, reinvestment into the business, and product markdowns are some of the culprits crimping profits for the well-known retailers, resulting in challenges for any potential "Santa Claus rally," according to Lindsey Bell, an investment Strategist at CFRA. She wrote in a note that while third-quarter earnings growth for S&P 500 companies "was the best on record since 2000" (excluding 2010's post-recession recovery), "the market reaction to the results were mixed" as investors re-assess future growth expectations given the details within the results.
"Currency swings, increases in raw material and transportation cost, and trade- and tariff-related effects on operations were discussed by many companies as negative impacts either in the third quarter or for the fourth quarter," Bell said. These issues, combined with "interest rate movements, an increased worry about the Fed's pace of tightening, oil price declines and trade uncertainty resulted in heightened volatility and increased investor unease since third-quarter earnings season kicked-off."
Meanwhile, an index of North America regional mall operators also plunged, down as much as 5 percent to multi-year lows.