Retail ETF Has Worst Day in Nearly 2 Years on Amazon, Stitch Fix
(Bloomberg) -- The largest exchange-traded fund tracking retail stocks had its biggest slump in almost two years after Amazon.com Inc. ignited concerns about wage competition and Stitch Fix Inc. plunged on a disappointing earnings report.
The $727 million SPDR S&P Retail ETF, known as XRT, fell 3.3 percent, in its biggest decline since December 2016. Investors traded over 14.7 million of XRT shares valued at $732 million, almost triple the average daily turnover for the past year.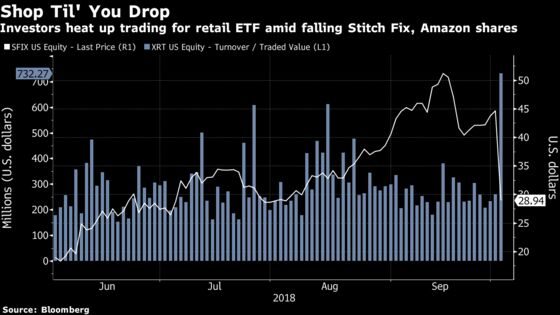 XRT is an equal-weighted strategy, and the biggest loser among the fund's holdings on Tuesday was Stitch Fix. The company's shares tumbled 35 percent, accounting for about 10 percent of XRT's loss in value.
Amazon's announcement that it is raising its minimum wage to $15 an hour also had ripple effects across the sector. Amazon's shares fell 1.7 percent while many retailers slid even more. With the wage hike, the world's biggest online retailer looks to attract seasonal workers from its brick-and-mortar competitors as the retail industry gears up for the holiday shopping season.
J.C. Penney Co., one of Tuesday's biggest decliners, rebounded 10 percent in extended trading after naming a new chief executive.