Retail Apocalypse Crushes BC Partners' Italy Clothing Chain
(Bloomberg) -- Even in a difficult environment for retailers, the woes of Italian discount clothing chain OVS SpA stand out.
Shares of the company, based near Venice, have collapsed 88 percent this year, the biggest drop among European retailers with a market value of 100 million euros ($113 million) or more. The stock fell 36 percent on Thursday alone after OVS, whose largest shareholder is private equity firm BC Partners, reported declines in sales and profit and said it's negotiating with lenders to amend the terms of its loans.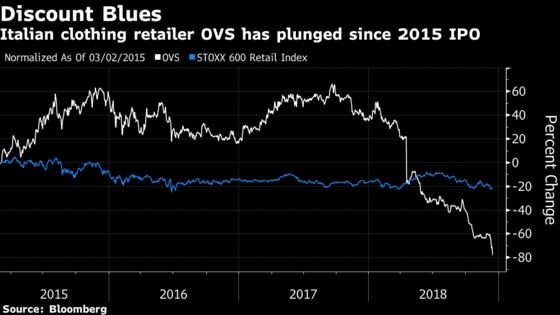 "This is the most difficult third quarter of our history," Chief Executive Officer Stefano Beraldo said on a conference call Thursday. "The entire sector has been penalized by the weather" and other factors such as customers' behavior, which is becoming "more and more difficult to predict," he said, adding that "to cope with this we need to accelerate our capacity to react to market changes."
While OVS said an unseasonably warm autumn kept clients from shopping, the company suffered plenty from its own decisions this year. It suspended the dividend to use its cash for expanded e-commerce offerings, lost revenue from store closings, and wrote down the value of a Swiss clothing chain, Charles Voegele Holding AG, it bought last year.
"The autumn/winter season has been a disaster due to the warm weather and the company has done even worse than the already-low expectations," Matteo Brancolini, a fund manager at BPER Banca SpA in Milan, said by email. "As they said that the trend is continuing in the fourth quarter, there is no light at the end of the tunnel in sight."
Street brand OVS competes with Hennes & Mauritz AB and Inditex SA's Zara, under the OVS and UPIM brands. The company's market share now stands at 8 percent and gained 33 basis points compared with October 2017, it said in the statement on Wednesday.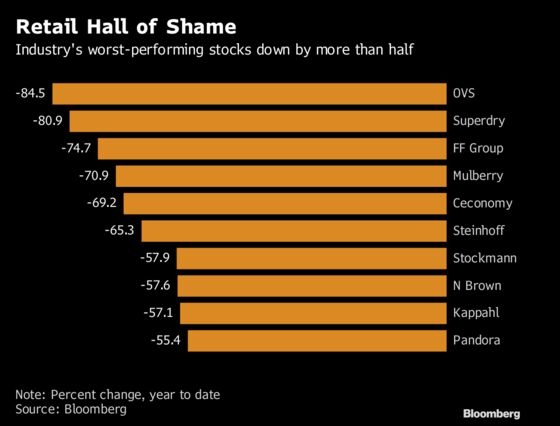 OVS and partners bought Voegele and renamed it Sempione Fashion Group. On July 30, OVS said it terminated its business relationship with Sempione after the latter filed for bankruptcy. "The Swiss investment has been a disaster and has compromised management's credibility," Brancolini added.
BC Partners owns 18 percent stake of OVS. The firm in 2011 bought OVS's then-owner, department-store chain Gruppo Coin, in a 1.4 billion-euro transaction, according to the firm's website. BC Partners carved OVS out of Gruppo Coin and sold a stake in a 2015 initial public offering at 4.10 euros a share.
BC Partners unloaded additional shares at higher prices three times over the next two years. Nikos Stathopoulos, partner at BC in London, is chairman of OVS's board, while the firm's Stefano Ferraresi also is a director. The firm declined to comment when contacted by Bloomberg News.
OVS shares peaked in September 2017 at 6.81 euros, just before BC sold its most recent slice of stock. It's been all downhill since then, with the shares slumping another 8.5 percent to 69 cents in early trading Friday in Milan. The company has a market value of 157.4 million euros, down from 1.5 billion euros last year.
Even after the collapse in the share price, most analysts aren't giving up on the company: Three recommend buying, five have hold ratings and none advise selling the stock, according to data compiled by Bloomberg. Still, Banca Akros SpA suspended the rating and target price, saying that it's seeking some "credible explanations" from the company.
OVS is in talks to extend maturities on loans due in 2020 by less than five years, while covenants won't change, people familiar with the situation said. OVS has a 100 million-euro revolving credit facility and a 375 million-euro term loans, both maturing in February 2020.