Kaisa on Brink, Restructuring Looms: Evergrande Update
(Bloomberg) -- Creditors of Kaisa Group Holdings Ltd. have yet to receive payment on a $400 million dollar bond that was due to mature Tuesday, as the company's shares were halted pending an announcement from the builder. 
The lack of payment puts Kaisa on the brink of becoming the second major Chinese developer to renege on debt obligations this week, as China Evergrande Group looks poised to begin a process of overhauling its balance sheet without a government bailout. S&P Global Ratings said Tuesday that an Evergrande default "looks inevitable."
Still, Beijing's recent easing signals have soothed some investor concerns and injected confidence into the market, helping spark the strongest rally in Asian dollar bonds in a month. Chinese junk dollar bonds had a second day of gains while the CSI 300 equity index closed at its highest level since September. Evergrande shares fell 5.5% in Hong Kong, setting its second record closing low of the week.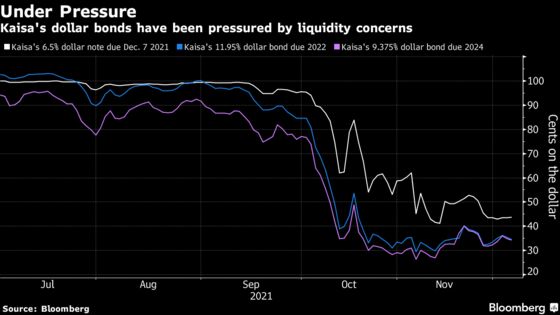 Kaisa Creditors Yet to Receive $400 Million Payment Due Tuesday
China's Possible Clean-Up of Evergrande May Hurt Bondholders
S&P Says Default Looks 'Inevitable' for Evergrande
Hopson Development Seeks Up to $300m in Convertible Bonds (7:40 p.m. HK)
Hopson Development Holdings Ltd. is selling $200 million in 363-day convertible bonds, with a $100 million same-day upsize option, according to terms obtained by Bloomberg News. The proceeds will be used for refinancing existing offshore indebtedness, including the repurchase of outstanding 2022 notes, and general working capital, the terms stated. The coupon will be 7% to 8% a year.
Further Deleveraging at Chinese SOEs to be Difficult: Moody's (4:19 p.m. HK)
While state-owned enterprises controlled by China's central government have seen "substantial" balance-sheet restructurings since 2015, "there has been little progress" among such firms at the local level, says Moody's Investors Service.
As overall SOE leverage is expected to rise as China's GDP growth gradually slows, local or regional government funding gaps will keep pressure on officials to finance spending through local SOEs, analysts including Martin Petch wrote.
Evergrande EVs Not on Approval List, Raising Production Doubts (12:58 p.m. HK)
Two models being developed by Evergrande's electric-vehicle unit weren't included on an approval list issued by the nation's Ministry of Industry and Information Technology, putting another question mark to whether the company will be able to mass produce a car and begin deliveries as promised.
China Evergrande New Energy Vehicle Group Ltd. applied for approval for two models of its Hengchi brand last month. Although the firm has made several attempts to raise money over the past few weeks to fund mass production of its electric cars, Evergrande NEV warned as recently as September that it faces a serious funds shortage, echoing some of the financial troubles faced by its parent. 
Evergrande Crisis Is No Lehman Moment for Rising Chinese Markets (12:46 p.m. HK)
For all the warnings earlier this year that Evergrande's debt crisis would become the country's Lehman moment, the developer's landmark payment failure on Monday is barely registering in local financial markets. The CSI 300 Index of stocks on Wednesday climbed to a six-week high and the yuan strengthened to its highest level since May 2018. 
Higher-Rated China Developers' Dollar Bonds Extend Rebound (12:12 p.m. HK) 
Dollar bonds from some higher-rated Chinese developers continued to rally Wednesday, adding to day-earlier gains as investors put money to work on signs of policy easing.
Kaisa Creditors Yet to Receive $400 Million Payment Due Tuesday  (11:35 a.m. HK)
Kaisa creditors have yet to receive payment on the $400 million dollar bond maturing Tuesday. There is no grace period on the bond's principal payment, according to the prospectus.
The Shenzhen-based developer failed last week to win approval for a debt swap that would have extended its repayment deadline. A group of Kaisa noteholders sent the company a formal forbearance proposal on Monday, people familiar with the matter said, but the outcome is uncertain.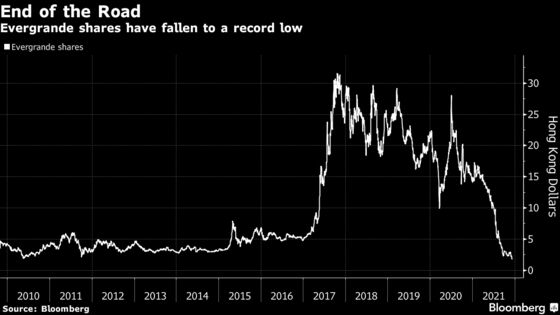 HNA Cedes Control of Core Airline Operations Marking End of Era (11:09 a.m. HK)
HNA Group Co. has officially handed over control of its core airline operations to Liaoning Fangda Group Industrial Co., marking the end of an era for the Chinese conglomerate as it continues to restructure one of the country's biggest piles of corporate debt. 
Asian Dollar Bonds Rally Most in Month on China Policy Support (11:01 a.m. HK)
Steps by Chinese authorities to limit the fallout from property market distress helped spark the strongest rally in Asian dollar bonds in a month. Spreads on Asia high-grade dollar notes narrowed 3 to 4 basis points, according to credit traders, poised for the most since Nov. 12 and a third straight day of tightening, a Bloomberg index shows.
China Junk Dollar Bonds Rise for Second Day (10:05 a.m. HK)
Chinese high-yield dollar bonds rose about 2 cents on the dollar Wednesday morning, according to credit traders, putting the notes on track to extend Tuesday's rebound. 
China's Possible Clean-Up of Evergrande May Hurt Bondholders (9:33 a.m. HK)
Evergrande's new risk-management committee includes senior managers from two Guangdong state-owned enterprises plus an SOE bad-debt manager and an SOE financial services firm. This may indicate the state will step in to help clean up Evergrande to minimize fallout from a potential debt restructuring, but at the expense of unsecured creditors, write Bloomberg Intelligence analysts Andrew Chan and Daniel Fan. 
Kaisa Suspends Trading Amid Uncertainty Over Debt Repayment (9:01 a.m. HK)
Kaisa suspended trading of its shares in Hong Kong amid growing concern over the Chinese developer's ability to service its debts, as distress in the nation's property sector spreads. It's the company's second halt in just over a month. Kaisa Capital Investment Holdings Ltd.'s shares plunged as much as 17% in Hong Kong.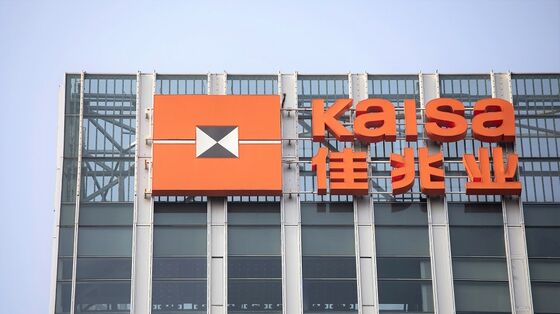 Chinese Developers Rush to Sell ABS In Shanghai: Sec. Times (8:23 a.m. HK)
Several Chinese developers are planning to raise funds via issuing asset-backed securities on the Shanghai Stock Exchange, including some private firms, Securities Times reports, citing market participants. The report added that financing channels for developers in the exchange bond market were smooth and orderly.
Evergrande's Surprisingly Quiet Collapse (8:15 a.m. HK)
After months of anticipation, Evergrande finally failed to meet obligations on time -- and it wasn't the Lehman moment that some had predicted. 
On the day that bondholders didn't receive interest payments at the end of a grace period, a gauge of Chinese stocks in Hong Kong jumped the most in two months, with developers among the best performers. Shares of Sunac China Holdings Ltd., which last month had to borrow money from its founder to help pay debts, surged 17% on Tuesday. Chinese junk dollar bonds climbed for the first time in a week. 
Evergrande Restructuring Puts Onus on Xi to Limit Contagion (6:58 a.m. HK)
The question has loomed over Evergrande for months: Is the world's most indebted developer too big to fail? 
Investors finally have their answer. With a flurry of announcements that sent its bonds tumbling to record lows this week, the company and Beijing have made it clear that billionaire Hui Ka Yan's property giant is headed for one of China's largest-ever debt restructurings. 
List of Chinese Developers Warning on Debt Grows With Aoyuan (5:00 a.m. HK)
The list of Chinese developers warning they may be unable to meet upcoming financial obligations now includes China Aoyuan Group Ltd., another builder from the southern province of Guangdong to run into difficulties.
The company said last week there's no guarantee it will be able to meet certain commitments due to liquidity issues. Fellow Guangdong-based developer Evergrande used nearly the exact language a day later when announcing plans to work on an offshore-debt restructuring plan.
A look at Evergrande's maturity schedule:
Dollar bonds
Coupon due date
Grace period ends

Amount 

(million dollars)

TIANHL 13% due 2022
Nov. 6
Dec. 6
41.93
TIANHL 13.75% due 2023
Nov. 6
Dec. 6
40.56
EVERRE 7.5% due 2023
Dec. 28
Jan. 27 
50.43
EVERRE 8.75% due 2025
Dec. 28
Jan. 27 
204.77