Respite May Be Close for These Battered Asian Stock Markets
(Bloomberg) -- The past two weeks have been ugly for Asian stock markets, but the selloff might have gone too far.
That's what an indicator of market momentum is hinting at. Benchmark gauges of China, Malaysia, Thailand, Singapore and the Philippines have entered oversold territory -- their relative strength index has fallen below 30 -- signaling that the losses may have gone too far. Most of those measures were still flying high just weeks ago.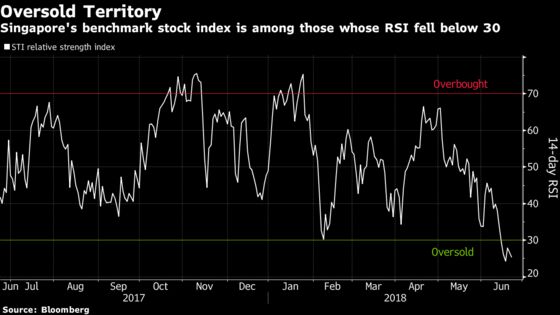 The rout has been rough. The Shanghai Composite Index just completed a fifth weekly plunge, with the specter of a bear market looming amid a possible trade war between the U.S. and China. The Philippine benchmark gauge closed down 22 percent from a peak as capital outflows worsened, while Thailand's, Malaysia's and Singapore's sank more than 9 percent from their highs.
Here's how much those measures rebounded the last time their RSI hit similar levels:
The Shanghai Composite climbed 4.5 percent in less than two weeks after its RSI hit 22 in February.
The Philippine Stock Exchange Index rose 2.7 percent the day after it closed at an RSI of 24 in March.
Thailand's SET Index briefly entered oversold waters in April, before gaining 4.4 percent in about two weeks.
The FTSE Bursa Malaysia KLCI Index's RSI slipped below 30 at the end of May and rebounded as much as 2.6 percent earlier this month.
Singapore's Straight Straits Times Index last went into oversold territory in January 2016. It jumped 12 percent in the next two months.