Resolution Stocks May Find Strong 2019 Finish Tough to Follow
(Bloomberg) -- Losing weight, joining a gym and eating healthy are among the perennial promises people make to themselves around the new year. But some stocks that might benefit from these trends may have gotten ahead of themselves before the resolution period starts in earnest.
One of the most obvious candidates, WW International Inc., the diet company formerly known as Weight Watchers, is up 81% from its August low -- jump-started by second-quarter earnings topping the highest analyst estimate. In September, WW announced the Oprah's 2020 Vision: Your Life In Focus Tour with shareholder and spokeswoman Oprah Winfrey. More recent catalysts included the roll-out of a new weight-loss program called myWW and last month's news that Winfrey's partnership was extended into 2025.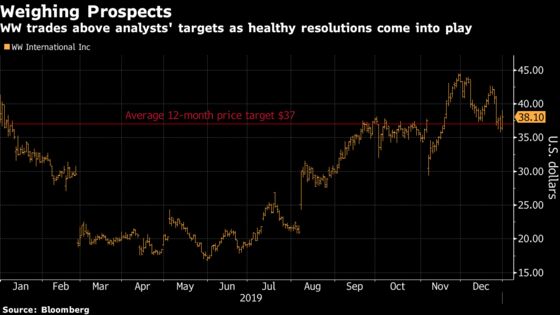 Investors will have to wait for WW's fourth-quarter results in late February for a sense about early-year sign ups. Shares already trade about 2% above analysts' average 12-month price target. Short interest is still elevated at 8.3% of float but down from a recent high of 19% in April, according to financial analytics firm S3 Partners.
Other health-related names to watch for resolution trends include Tivity Health Inc., which acquired WW rival Nutrisystem in March, weight loss and nutritional supplement company Medifast Inc., and fitness companies Peloton Interactive Inc. and Planet Fitness Inc. All four companies have risen from October/November lows as the broader market rose to record levels.