RenTech Has Been Pulling Money From Deutsche Bank for Months
(Bloomberg) -- Renaissance Technologies, the hedge fund giant that Deutsche Bank AG has counted as one of its largest clients, has been taking money out of its prime brokerage accounts with the German lender over the past few months, according to people familiar with the move.
While Renaissance, the secretive firm known for its unrivaled Medallion Fund, remains a major client of Deutsche Bank, it has been moving business to Barclays Plc and Bank of America Corp. -- relationships it started this year -- and other banks, according to the people, who asked not to be identified because the information isn't public.
Representatives for Renaissance and Deutsche Bank declined to comment.
Deutsche Bank Chief Executive Officer Christian Sewing is poised to present a sweeping overhaul of the troubled German lender, probably after a supervisory board meeting scheduled for Sunday. The restructuring plan may target the firm's struggling equities business for cuts, which houses the prime brokerage unit that caters specifically to hedge fund clients, people familiar with the matter have said.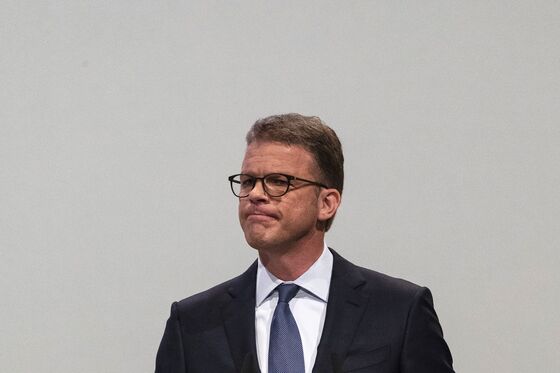 The bank's hedge funds business has been shrinking for years. Through the end of last year, revenue from executing trades and lending securities to hedge funds was down by more than a third from 2015, people with knowledge of the matter told Bloomberg in March. Before that, it was one of the top players in the business, stealing share from the likes of Morgan Stanley and Goldman Sachs Group Inc. when they were reeling in the wake of the financial crisis.
Renaissance, with about $60 billion under management, was founded in 1982 by Jim Simons, a major donor to Democratic causes. Peter Brown and Robert Mercer took over as co-CEOs about nine years ago. Mercer left that post at the beginning of last year following concerns that his backing of Stephen Bannon and Breitbart News had hurt morale at the firm.
Renaissance and Deutsche Bank have a long history. The hedge fund firm's chief operating officer, Jim Rowen, oversaw the bank's prime brokerage unit from 1998 until he left in 2005. He joined Renaissance in 2008. The company's Medallion Fund generated an annual average return of about 40% through last year, according to calculations by Bloomberg.
In 2014, Renaissance and Deutsche Bank employees faced a Senate committee, which said the hedge fund was carrying out an array of transactions -- helped by Deutsche Bank and Barclays -- that allowed it to avoid paying billions in taxes. Using the transactions, Renaissance sought to transform profits from rapid trading into long-term capital gains taxed at a lower rate, then-Senator Carl Levin said at the time.
Renaissance is in talks with the Internal Revenue Service to resolve the dispute, according a December letter seen by Bloomberg. The firm has said it believes the IRS is wrong. The case is among the largest ever handled by the agency.