Relaxing of Japan Border Controls Lifts Hopes for Tourist Stocks
(Bloomberg) -- While Japan's not yet ready to welcome foreign tourists back, prospects are finally looking up for stocks related to the country's beleaguered travel industry. 
Airline shares jumped Monday after the Nikkei reported Japan is considering allowing business travelers, exchange students and trainees enter the country from as early as this month -- the first relaxation of tight border controls since the start of the year. Quarantine for vaccinated Japanese nationals returning from business trips will also be reduced to just three days, the report said. Foreign Minister Toshimitsu Motegi later confirmed that Japan was looking to ease controls.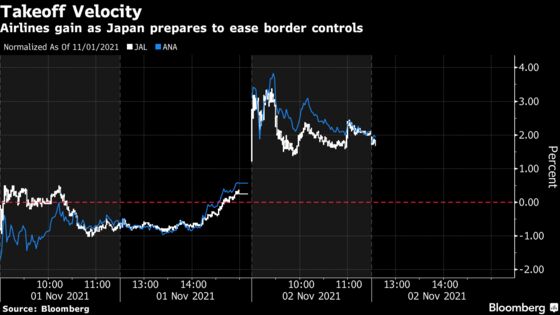 Japan Airlines Co. rose as much as 3.1% and ANA Holdings Inc. gained up to 3.4% in early Tokyo trading, while the benchmark Topix index declined. Japan Airport Terminal Co., which operates duty-free stores at Tokyo's main airports, added as much as 2.6%. 
The relaxing of the border controls would come as a boost to the likes of JAL, which is set to forecast a net loss of more than 100 billion yen ($878 million) for the current fiscal year, a person with knowledge of the matter said.
Fumio Kishida's victory in Sunday's general election is also seen as positive for the sector, as the main opposition party called for even stricter controls than at present. The prime minister said Monday that he was weighing a restart of the "Go To Travel" program, a popular subsidy started last year to boost the tourist industry during the pandemic but suspended in the winter as Covid cases rose. 
"Now that the election is over, there will be more willingness to allow vaccinated tourists to enter the country," John Vail, the chief global strategist at Nikko Asset Management Co., wrote in a note on Monday. "Some of the travel-related portions of the stock market and economy should recover over the intermediate term." 
Department store operator Takashimaya Co. climbed as much as 2.9% on Tuesday, while East Japan Railway Co., the nation's largest train operator, rose as much as 1.7% and West Japan Railway Co. added up to 1.6%