Record Burst of Selling Hit Just Before Nasdaq's Morning Bounce
(Bloomberg) -- Stocks hit their lows and rebounded after a mammoth wave of selling landed at the open. And that may be a good sign.
The so-called Tick index, which compares stocks moving up versus down on a second-by-second basis, sent what some chart watchers see as a signal that a recovery is in the offing. New York Stock Exchange companies trading on downticks exceeded those on upticks by 2,069 at one point, sending the index to a record low. It happened as the Nasdaq 100 fell almost 2% at the open before bouncing back.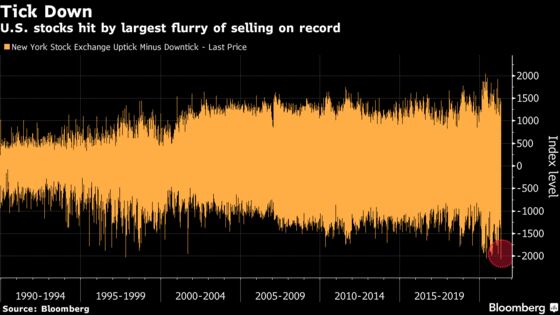 That rebound didn't last long. Neither did the subsequent selling. Prices swung widely as the Nasdaq 100 stayed below its average over the past 100 days, a trendline that has served as support during the selloff last November and again in March.
For chartists looking for the bottom of the tech rout, the dip in the NYSE TICK Index is at least one of the first signs of capitulation that may set the stage for a sustained rebound.
"The tick index is a contrarian measure," said Max Gokhman, head of asset allocation at Pacific Life Fund Advisors. "If everyone is selling everything indiscriminately, it's not a time to head for the door yourself."
The Nasdaq 100 has dropped more than 5% from its April peak as concern over inflation sparked a selloff in richly-valued technology stocks. Amid the carnage, the once red-hot trade is unbuckling. Short sales are piling up, while data from Goldman Sachs Group Inc.'s prime broker showed hedge funds were net sellers of tech stocks for a 10th straight day.