RBC Strategists Tout Equity Hedges for Markets Full of Froth
(Bloomberg) -- With the historic stock rally looking shaky ahead of make-or-break tech earnings, traders who have been riding the bull market unhedged are likely scrambling for protection.
A group of strategists and traders at RBC Capital Markets has laid out some ways in a conference call for clients.
Amid unprecedented signs of market euphoria, there's plenty of investor nerves out there -- but also a reluctance to forgo gains. That favors complex options trades that protect against crashes but keep investors in the market, according to RBC's strategists.
"What are signs that the music stops?" analyst Amy Wu Silverman said in an interview on Tuesday. "If you start to see negative momentum, it could be exacerbated. As an institutional investor, what do you do in a situation like this? You can't just not participate."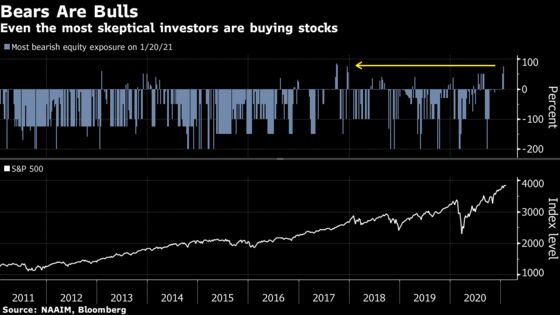 Global and U.S. stocks have been in record territory for months, and signs of speculative excess are building. Alongside doubts over the level of U.S. stimulus and worries about the pace of coronavirus vaccinations, froth in small-caps and in short-term call options has investors looking over their shoulders as they chase epic stock-market gains.
To complicate things, high implied volatility is making outright hedging expensive.
Silverman suggested call spreads as one solution, a trade that involves selling an extremely out-of-the-money call option to fund another call that's at-the-money or slightly out-of-the-money. Numerous investors have done this to replace their outright long stock holdings, she said on the call with clients on Tuesday.
Silverman also pointed to overwriting, which involves selling call options on existing positions and collecting the "extremely rich" premium. Another way is via collars, which involve selling a relatively expensive call to buy a relatively cheap put option.
"People feel OK burning a little premium because there's an awful lot of froth," Silverman said, even if "the music's probably going to play a little bit longer."