RBA's Lowe Says Recovery Rests Heavily on Scientists' Shoulders
(Bloomberg) -- Australia's central bank chief Philip Lowe warned that without a Covid-19 vaccine, the economic recovery will likely to be "quite slow" as people would be nervous about their health and unwilling to spend.
Speaking during an online panel discussion with regulatory counterparts, the Reserve Bank governor said the key lesson he drew from the 2008 financial crisis and current pandemic is that confidence is "incredibly fragile" and restoring it is critical.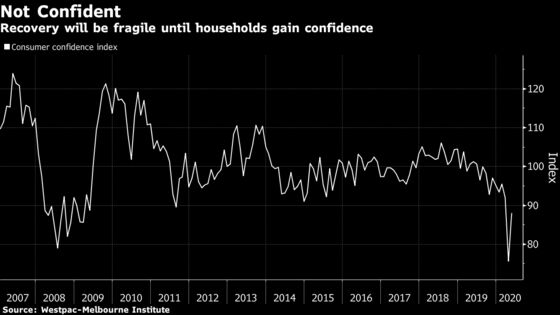 "If we don't get breakthroughs on the medical front, then I think it's going to be quite a slow recovery," Lowe said in response to a question. "We've got a lot resting on the shoulders of the scientists here."
The measures the central bank has introduced to support firms and households are "working as expected," he said in prepared remarks, saying that banks have cut lending rates to record lows, especially for small business.
At an emergency meeting in mid-March, the RBA cut the cash rate to its effective lower bound of 0.25%, announced a bond-buying program and a A$90 billion ($59 billion) lending facility to get credit flowing into the economy.
Lowe was asked about the potential for negative rates to be introduced and reiterated that this was "extraordinarily unlikely." The RBA board "is not contemplating having negative interest rates in Australia. I think the costs of that exceed the benefits," he said.
The governor, in his opening statement, noted the limits of monetary policy in responding to a health crisis, and the crucial role fiscal policy had played and would continue to play in months ahead. The central bank and government together assembled a fiscal-monetary injection equivalent to 16.4% of gross domestic product to support the economy.
Lowe urged Australian lenders to draw on their capital buffers, saying they didn't need to be maintained during a "once-in-a-century shock." Buffers have been built up to be tapped in times like these, he said, "and some reduction in capital ratios is entirely appropriate as lenders support their customers through this difficult period."
This theme was echoed by Australian Prudential Regulatory Authority Chairman Wayne Byres, who said bank capital ratios are at historical highs. He sees capital ratios coming down in the year ahead, adding "major bank CET1 ratios below 10% again are to be expected."
Lowe also reflected on labor market data released last week that showed almost 600,000 jobs were lost in April and total hours worked declined by an unprecedented 9%. Yet surveys since then suggest the decline in total hours worked might be "less than earlier feared," he said.
Australia is in the grips of its "biggest and most sudden" economic contraction since the 1930s, Lowe said. The governor renewed his call for a "reinvigorated economic reform agenda that gives the community the confidence that once the virus has passed, we can move quickly out of the economic shadow it is casting."