Rate Hike Jitters Are Sowing Wild Swings in European Bonds
(Bloomberg) -- A standoff between European bond traders and the central bank has unleashed turbulence across debt markets. 
Volatility measures for euro investment-grade and junk debt and Italian bonds have spiked to multi-month highs. An iShares corporate bond ETF, Europe's largest credit fund, endured the biggest swings since April. 
Traders are being whipsawed by back-and-forth bets on when policymakers will start raising interest rates, and whether inflation pressures will ultimately force them into action. Even though European Central Bank President Christine Lagarde has pushed back against expectations for an increase next year, money markets still reflect 10 basis points of tightening.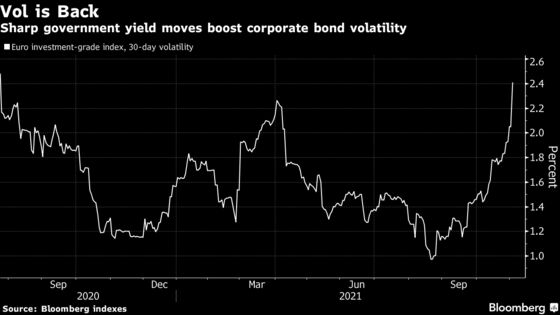 "The market may be a little spooked by the inflation overshoot," said Maria Staeheli, a senior portfolio manager at Fisch Asset Management, which oversees 13 billion Swiss francs ($14.3 billion). "It's also that time of year when liquidity starts to decline." 
Traders are also jittery about all the action happening at other central banks. Australia kicked the drama off this week when the officials bowed to market pressure and abandoned its yield curve control policy. On Wednesday, the Federal Reserve announced it's pulling back on stimulus. The Bank of England is due to meet today.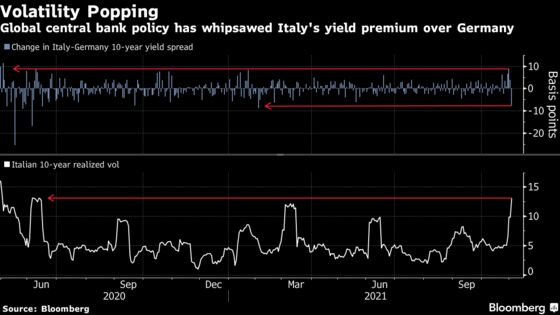 "Central banks are trapped," said Althea Spinozzi, a fixed-income strategist at Saxo Bank A/S. "Either rate path they decide to walk on will lead to more volatility." 
The yields yo-yo has been so sharp that hedge funds from Balyasny Asset Management to BlueCrest Capital Management have curtailed the bets of some traders after losses piled up.
30-day historical volatility for a Bloomberg index of euro high-grade debt reached the highest since July 2020. For junk debt, it was the highest since March.
Italy swings were the highest since June 2020, on a 10-day basis.
Many credit-focused investors hedge their interest-rate risk, which should protect them from some market turbulence. But to Shanawaz Bhimji, an ABN Amro Bank NV fixed income strategist, the compensation they get from spreads is paltry. 
"There's not much left and actually broad market spreads are already a tad too rich for where we see the economy going under a transitory inflation base scenario," Bhimji said.
High-grade spreads have narrowed to just 87 basis points, about 5 basis points from a three-and-a-half-year low, based on Bloomberg indexes. Meanwhile, average coupons among euro investment-grade bonds stand at a nadir of 1.41%. Safe corporate bonds tend to be very sensitive to changing government bond yields as they have a longer maturity.  
"Everything that's rates sensitive is rich," said Vincent Benguigui, senior credit portfolio manager at the international business of Federated Hermes. "We want to reduce our rates sensitivity and our exposure to rates as much as we can." 
Investors in Europe's credit market are focusing on a slew of deals and bank earnings on Thursday, while digesting the outcomes of the latest Federal Reserve meeting.
At least five issuers are due to print deals on Thursday equating to at least 3.2 billion euros; deals include high-yield and building products retailer SIG
Alstria's bonds fell the most in 20 months after a bid by Brookfield Asset Management to take the real estate firm private
Credit Suisse said it will shrink its investment bank and shift more resources to the wealth management unit as part of a restructuring intended to draw a line under a tumultuous year in which it was rocked by the Archegos and Greensill scandals
The selloff in China's stressed property developers resumed on Thursday, amid signs of contagion spreading to the onshore market.
Kaisa Group Holdings Ltd.'s bonds and shares tumbled after a wealth-management product guaranteed by the company missed a payment deadline
China's dollar high-yield debt fell for the 10th day in 11 after yields climbed above 21%
Trading was halted in two yuan bonds from other real estate firms after they plunged more than 20%
The Fed announced plans to taper stimulus, as expected, but signaled it will be patient on raising interest rates. U.S. stocks rose to records and the Treasury yield curve steepened.
Bond sales stayed muted on Wednesday ahead of the Fed's announcement.
Loan activity was more buoyamt, with at least four new leveraged loans launching Wednesday, including a $550 million acquisition deal for Howden Group Holdings and a $910 million refinancing for CHG PPC Parent LLC