Rand Bears in Ascendance as Risks Rise From Moody's to Poll
(Bloomberg) -- Never mind that the rand is starting the week on a positive note, bearish signals are stacking up.
Hedging in the options and futures markets point to rand weakness, and foreign investors are voting with their wallets, selling South African bonds at a rate not seen since November. The stock market is also seeing sustained outflows as a credit-rating review by Moody's Investors Service approaches and political uncertainty increases ahead of an election scheduled for May.
The South African currency is already down 1.8 percent this month, adding to February's 6.8 percent loss. It has all but erased its year-to-date gain, though it pared the decline on Monday, advancing 0.6 percent to 14.3477 per dollar by 4 p.m. in Johannesburg.
"This year's bullish rand run now seems stalled," Thanda Sithole, a Johannesburg-based economist at Standard Bank Group Ltd., said in a note to clients. "We are therefore cautious on rand direction amid increased global growth concerns, Brexit, U.S.-China trade, and South Africa factors such as the rising risk of negative ratings by Moody's as well as the May elections."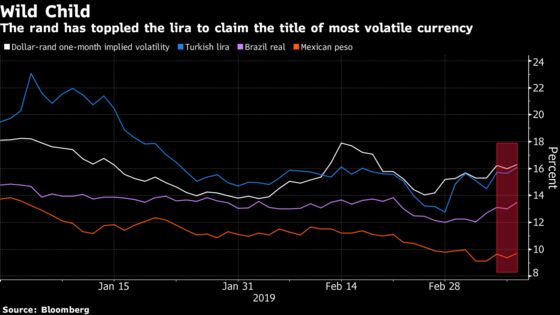 Since February, the rand has been back on its perch as the developing world's most volatile currency. It's one-month implied volatility climbed to the highest in nearly a month, overtaking Turkey's lira, as options traders anticipate wider price swings in the run-up to the Moody's rating review on March 29.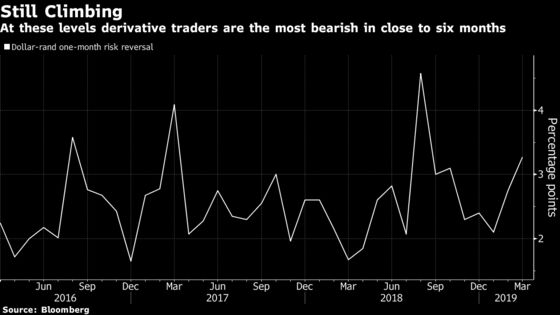 Traders are leaning more toward hedging against rand declines in coming weeks. The premium of options to sell the currency over those to buy it in the next month, known as the 25-Delta risk reversal, has climbed 65 basis points this month. The measure is second only to Turkey's lira in a basket of emerging-market currencies.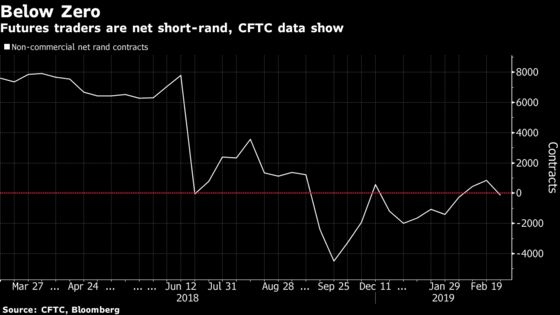 Investors in the futures market are becoming more pessimistic, with non-commercial short-rand contracts outweighing longs, CFTC data show. That's a turnaround from February, when traders were net long-rand for a brief period.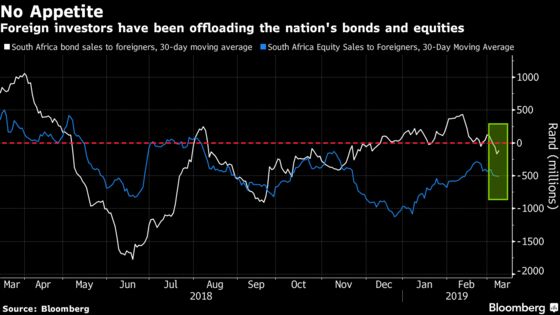 Foreign investors are getting out of South African bonds and stocks. Non-residents have been net sellers of government bonds at an average rate of 115 million rand ($8 million) a day over the past month -- not a huge number, but a turnaround from mid-February, when inflows averaged 434 million rand a day. And offshore investors have been net sellers of South African equities for the past 14 days, the longest streak since October 2017.