Biggest China Stock That Gained From Virus Are Giving Up Their Wins
A rally in stocks seen to benefit from China's deadly virus outbreak is fading.
The small-cap ChiNext index fell as much as 1.3% Tuesday before finishing down 0.7%. The gauge's rapid rebound last week, when it took just two days to recoup all losses after China's stock market saw a record stock sell-off, set the stage for the ChiNext to notch its highest close since late 2016 on Monday.
Among the biggest laggards Tuesday, Tianjin Chase Sun Pharmaceutical Co. dropped by the 10% daily limit for a second day. The company, which has a drug being used in hospitals for virus treatment, posted a record 55% gain last week. Yealink Network Technology Corp., which makes communication equipment that aids remote working, has lost more than 5% so far this week after closing at a record high on Friday.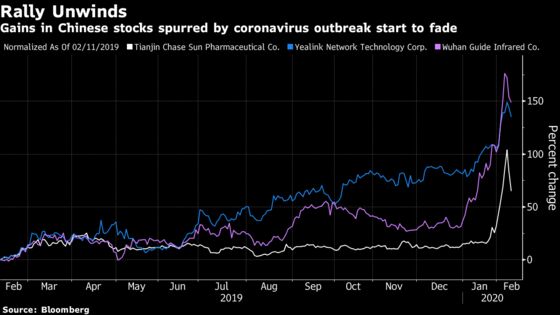 The boom and bust cycle followed the largest swings for Chinese stocks since early 2016 last week.
Recent rallies elsewhere in the market have also started to crumble: Yonghui Superstores Co., a supermarket chain which offers online shopping and delivery services, dropped 2.7% in Shanghai on Tuesday after a six-day gain of 24%. Online medical consultation service provider Ping An Healthcare and Technology Co. lost as much as 5.2% in Hong Kong, following a five-day advance of 20%.
Thermal imaging system maker Wuhan Guide Infrared Co., the best performer on MSCI China index this year with an 85% gain, dropped for a third day Tuesday.