Gasoline Shortages Across the U.S. East Are Creeping Northward
(Bloomberg) -- Gasoline shortages across the U.S. South are expanding northward as antsy motorists race to fill up with the ongoing shutdown of North America's largest petroleum pipeline threatening to leave the region without fuel for days.
Fuel terminals at the pipeline's terminus in Linden, New Jersey, are rationing supplies. The terminals are rationing on a per-day basis, said Gary Kandola, chief financial officer of Express Fuel Distributors Corp., which delivers fuel via trucks to unbranded filling stations in Pennsylvania and New Jersey.
"They said you can only pick up so many loads per day until this thing is resolved," Kandola said. It means he's getting 20% less than he normally would.
So far, Virginia has been hit the hardest as a result of the Colonial Pipeline Co. hack, with 7.6% of the state's filling stations out of fuel as of 2 p.m. E.T., according retail fuel tracker GasBuddy. North Carolina and Georgia are also experiencing supply crunches at 7.5% and 5.2%, respectively.

In parts of Virginia and Maryland near Washington D.C., drivers are waiting as long as five hours to fill up and some motorists are topping off even when they're three-quarters full, Liberty Petroleum Corp. Chief Operating Officer John Patrick said in an email.
TravelCenters of America is bringing in fuel from other regions to minimize supply disruptions, spokeswoman Tina Arundel said in a statement. The company has stations in 44 states.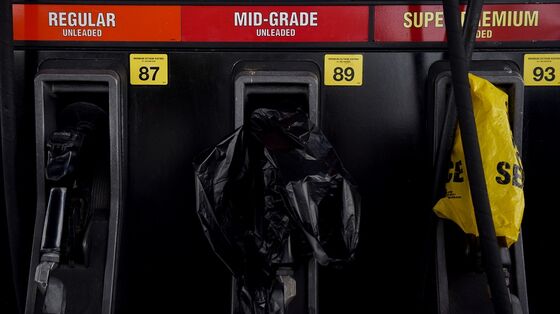 Love's Travel Stops and Country Stores locations in Georgia, South Carolina, North Carolina, Tennessee and Virginia are experiencing low levels of diesel and gasoline intermittently, spokesperson Caitlin Campbell said in an email.
RaceTrac Petroleum Inc. earlier warned motorists that some of its filling stations across the U.S. South are out of fuel.
The shortages are impacting retail outlets in Louisiana, Georgia, Tennessee and Alabama, RaceTrac spokeswoman Megan Shannon said in an email. Fuel outages are spreading from Florida to North Carolina as the shutdown of Colonial's 2.5 million barrels (105 million gallons) of daily deliveries drags into a fourth day.
GasBuddy analyst Patrick DeHaan said that retail gasoline sales rose sharply Monday in Virginia, North Carolina, Georgia, Florida and South Carolina. Nationally demand jumped 20%.
About 20% of the service stations in Atlanta were out of fuel according to GasBuddy.
The Marathon station on Riverstone Parkway in Canton, Georgia, 40 miles (64.4 kilometers) north of Atlanta has been out of gas since noon local time Tuesday. Typically, the station sells 1,500 gallons a day, according to clerk Mayank Patel.
"We sold 5,000 gallons yesterday, and this morning, we had a little over 3,000 gallons left, and I'm out of that, too," Patel said in a phone interview. A delivery scheduled for last night hasn't come yet.
Sammy Sarothia, the manager of a Chevron Corp. station on Ponce De Leon Avenue in Atlanta said his station will likely be dry this evening.
"I'm really low, and I don't know if deliveries are coming tomorrow," he said. "I don't know what I'm going to do. After evening, I'll have to put a sign: out of gas."
The national average retail price for gasoline rose to $2.985 a gallon on Tuesday, the highest since 2014 and 2.5% above the week-ago level, according to auto club AAA.