Race to the Bottom: Which U.K. Stock Will Be the Worst of 2018?
(Bloomberg) -- It's the most unwanted title of the year, but the race is on to be crowned the worst performing U.K. stock of 2018.
The contest among members of the FTSE 350 Index intensified on Wednesday as hoodie-maker Superdry Plc plummeted by about a third after reporting a slump in first-half profit. That extended its drop this year to more than 80 percent, a little more than opioid addiction treatment-maker Indivior Plc, which rose following a U.S. court ruling that temporarily stopped a rival from selling copycats of its key drug.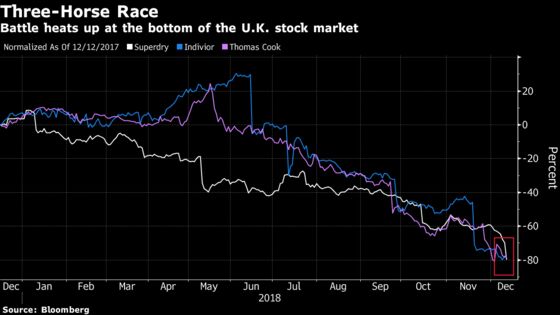 A third stock in the race is tour operator Thomas Cook Group Plc -- bottom of the pile before Wednesday's open after a November profit warning spurred fears of a capital raise. Its shares jumped as much as 19 percent, though are still down 77 percent in 2018.
The London-based company said Wednesday it would cut airline capacity by 4 percent next summer. It was forced to slash prices on pre-booked seats this year as warmer than usual U.K. weather reduced demand for trips to foreign shores.
For Superdry, the pain may not be over yet, according to RBC Capital Markets. "We do not yet believe we have found the floor given management's inability to stabilize deteriorating financial performance," analyst Piral Dadhania wrote in a note.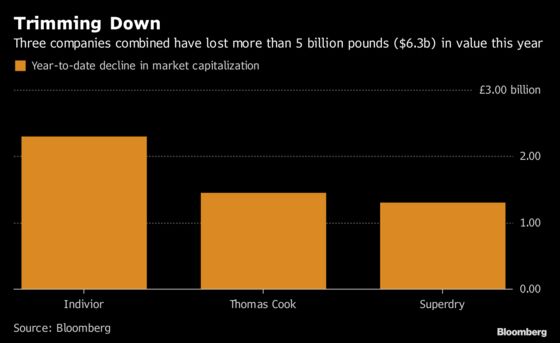 Meanwhile a catalyst for Indivior shares could come as soon as next week. The Slough, England-based firm is scheduled to issue a trading update on Dec. 18, following the cancellation of an investor day last month due to uncertainty surrounding the patent dispute with Dr. Reddy's Laboratories Ltd.