Quants Threaten to Undo Rally They Helped Fuel in Japan
(Bloomberg) -- Japan's retail investors have some company -- fickle fast-money quantitative traders are fueling the domestic equity market's latest flirtation with multi-decade highs.
A class of trend-following quants known as commodity trading advisers have been loading up on Nikkei 225 Index futures, including participants that prefer using leverage, according to Nomura Holdings Inc. The resulting surge in the benchmark has prompted the Japanese firm to warn that the gains have gone too far and are due to fade.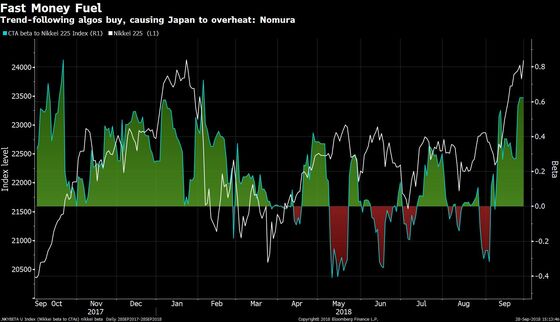 The Nikkei 225 climbed 0.5 percent on Monday to close at its highest price since 1991. The portion of CTA one-month returns attributable to the index is now approaching 2018 highs, while the gauge's 14-day relative strength index is above the so-called overbought level of 70, according to data compiled by Bloomberg.
"The sharp rise in the NKY seems to be 'exceeding its speed limit', compared with Japanese equity market sentiment, which is already softening," wrote Masanari Takada, a quantitative strategist at Nomura, in a note Friday. "Its upward momentum sooner or later will weaken."
Because CTAs buy into rallies and go short assets in free fall, market observers often worry their leveraged support will turn to downward pressure at the next hint of weakness. Some strategies also include mean reversion signals, where, for example, funds flip to short positions when gains exceed historical averages.
As of the first quarter of 2018, CTAs oversaw $306 billion, according to Hedge Fund Research.
According to Takada, month-end rebalancing from risk parity funds -- which allocate assets depending on their volatility -- has also brought fresh money into Japanese stocks. Those inflows will begin to fade this week, he said.
In a further sign of speculative demand for exposure to Japanese shares, leveraged funds' net long position in Nikkei futures hit the highest in 17 months, the latest Commodity Futures Trading Commission data show.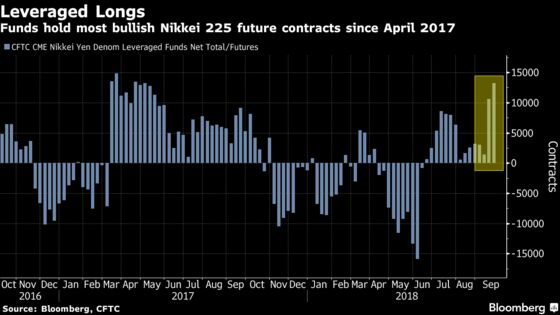 Meanwhile, over-extended bearish positioning in Japanese government bonds and the yen could also pose a risk to the stock rally, according to Nomura.
The weaker yen has helped boost exporters while higher JGB yields have supported bank shares, Takada said. Volatility in either market, sparked by hedge funds closing positions could lead to pressure on the Nikkei, he said.
"Yen depreciation and a rise in 10-year JGB rates have indirectly contributed to the Japanese equity market, and are likely to retreat," Takada wrote. Sudden fluctuations "may indirectly lead to the Nikkei being less overbought."