Quants Take Beating as Momentum Strategy Lags Stock Rebound
(Bloomberg) -- Equity investors are fleeing the darlings of yesteryear, hit by valuation fears and spiking correlations.
In a sign of vanishing confidence in the bull market's biggest anchor, $275 million fled the iShares Edge MSCI USA Momentum Factor ETF on Tuesday -- the biggest one-day withdrawal since May -- even as the broader index edged higher.
At the same time, Wall Street strategists continue to sound the alarm on quantitative-investing styles pursuing the highest fliers, while the S&P 500 rides a 4 percent rebound.
A strategy that effectively buys the biggest winners and sells the losers over the previous 12 months has shed 1.3 percent in the new year, one of the worst-performing factors tracked by Bloomberg.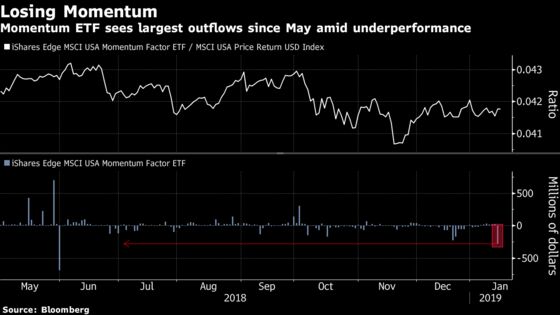 For sure, the factor may just be pausing for breath after outperforming in the grip of the December tumult, while value stocks finally catch a lucky break. But with the U.S. momentum index at its priciest versus the benchmark on record, Sanford C. Bernstein is decidedly bearish on the factor.
"We can see that the high momentum-winner stocks (healthcare, tech, utilities) have de-rated but the losers have de-rated even more (e.g. financials, energy, industrials, materials)," Bernstein strategists led by Sarah McCarthy wrote in a Tuesday note. "This leaves the spread in valuation between winners and losers at an even-more extreme level."
The factor's shift from reliable outperformer to laggard is a blow to quantitative funds grappling with choppy market trends.
Correlation has jumped to the highest in two decades, making it harder for money managers that slice and dice equities into different investing styles like quality, value and momentum, according to Bernstein.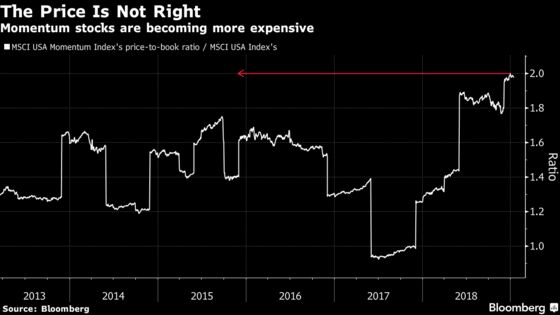 Some of the sectors currently favored by the style -- utilities and health care -- are more crowded than usual, it says.
Tech and financials weightings in the iShares fund, or MTUM, have dropped since the end of last January, giving rise to health care, communication and consumer staples, according to BlackRock data.
S&P 500 futures were up 0.3 percent ahead of the U.S. open in Wednesday trading.
Bears need plenty of guts. MTUM, for example, has outperformed the MSCI U.S. index by a whopping 35 percentage points since its 2013 inception.
Beyond quants, the best-performing active funds last year also favored momentum equities, but the prospect of elevated volatility threatens the factor, according to Bank of America Corp.
"Greater exposure to momentum helped funds in 2018, but could be a risk in 2019," strategists led by Savita Subramanian wrote in a note last week.