Quants Rule Equity Markets With Momentum Posting Crazy Swings
(Bloomberg) -- Investors holding tight to the most-beloved companies in the stock roller coaster haven't felt this woozy in years -- evidence that a deeper force is hypnotizing the broader market into an ever-damaging slump.
It's all down to violent shifts in the hottest quantitative-investing style in the aging bull market known as momentum, which bets on the best-performing companies over the past year.
The factor led stock declines on Tuesday as the S&P 500 Index fell for the 12th session in fourteen. Its 40-day volatility has skyrocketed to the highest in more than two years, Bloomberg data show, with a pure U.S. momentum portfolio swinging between gains and losses over the past eight sessions.
It all underscores how U.S. stocks are being held hostage by whipsawing returns posted by the highest fliers -- challenging a Wall Street narrative that economic-growth fears are breaking the bull market.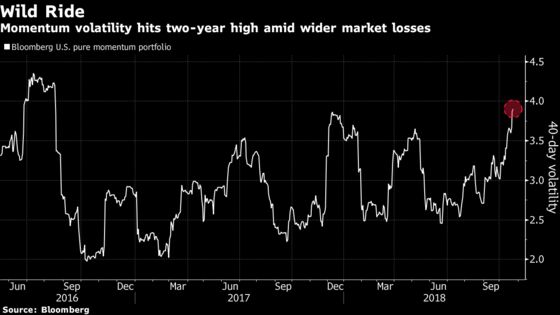 "Factor and industry exposure are responsible for more of the change in market returns, making factor and industry selection more important than macro trends," Dennis DeBusschere, Evercore's head of portfolio strategy, wrote in a note to clients.
A market-neutral version of momentum is now on track for its second-worst monthly performance since April 2016.
No wonder the junk-bond cash market and global currency volatility have held relatively steady in the eye of the equity storm: Macro risks explain just 29 percent of the S&P 500 Index's returns, down from 41 percent two weeks ago, according to Evercore ISI data.
Drivers like the U.S. dollar and the yield curve are losing their power to account for share movements, the firm said.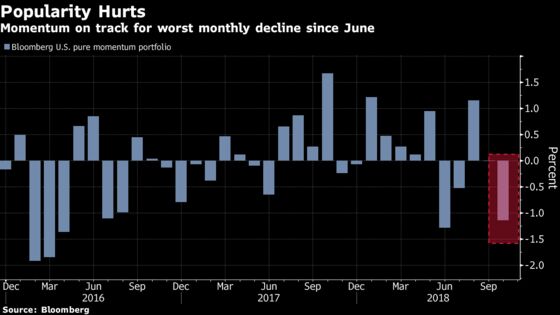 "The decline in the macro-risk contribution to S&P volatility over the past two weeks is a three-sigma event," or an occurrence that happens less than 0.3 percent of the time in normal circumstances, DeBusschere wrote in the note.