Quants Are Liquidating Stock Exposures at Fastest Pace on Record
(Bloomberg) -- The record volatility unleashed by the coronavirus outbreak has spurred quant traders to throw in the towel at an unprecedented pace. The silver lining: they now have much less to sell.
Systematic clients on Credit Suisse Group AG's prime-brokerage platform have slashed their equity positions by 45% this month compared with the end of last. After taking into account falling prices, the market-neutral funds, which take no directional bets on the benchmark, offloaded 15% of their bets in the five days through Thursday. That's a record deleveraging spree in a decade of data.
From quants trading single stocks to those buying and selling index futures, their market exposure has plunged to the lowest in years.
"Is this deleveraging done? Our guess is yes, at least in the severe form of the past weeks," JPMorgan strategists led by Nikolaos Panigirtzoglou wrote in a note, referring to funds that sell when volatility is high. "Even in a theoretical scenario where the market backdrop gets worse and vol rises further from here, the notional amount of selling would be a lot smaller."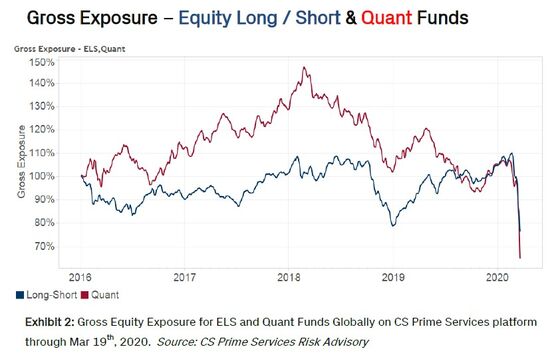 As major economies head for a near-total shutdown, financial markets have been mired in a vicious cycle of rapid selling, deteriorating liquidity and spiking volatility. Worse yet, the breakdown in cross-asset correlations and indiscriminate plunge in shares have plagued even the systematic strategies that are designed to fare better in a correction.
That's making quant traders who typically tout their firepower to ride assets both on the way up and down sit on the sidelines instead. The tell-tale sign? The rapid reduction in systematic exposures above and beyond what's implied by falling prices.
"This rapid unwind is indicative of the magnitude of the broader shift in attitude towards the economic fallout from Covid-19," Credit Suisse's global head of risk advisory Mark Connors wrote in a note to clients. "Last week's record deleveraging by quant funds negatively impacted performance."
But in a glass half-full way, that means markets have less selling pressure to absorb from systematic players. Funds with volatility targets have cut their stock allocation to a record-low 15% from about 70% months ago, according to Deutsche Bank. Risk-parity funds, meanwhile, joined the global maelstrom last week after bonds sold off along with equities. They've now seen their market positions slashed in half, according to JPMorgan Chase & Co.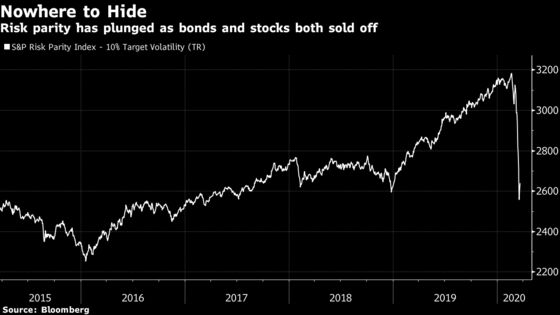 This type of leveraged trader which allocates to different asset classes based on volatility levels has already offloaded some $90 billion in bonds, $30 billion in stocks and another $30 billion in commodities, according to the U.S. bank.

As for commodity trading advisors, which typically follow cross-asset trends with futures contracts, their net exposure has dropped to the fifth percentile, according to Deutsche Bank AG, meaning that it's only been this low or lower 5% of the time.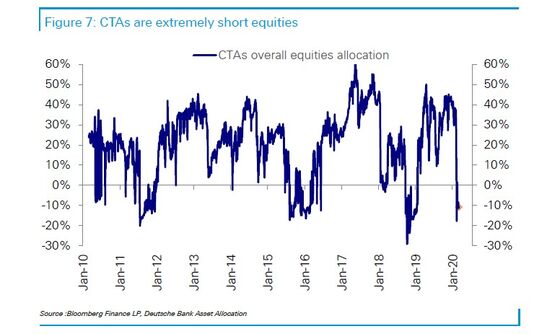 While CTAs can trade both long and short and thus theoretically offer some downside protection for clients, volatility can also deter the cohort from going all-out with their bets. For instance, Deutsche Bank estimates the group has turned neutral on bonds and oil owing to increasingly rocky prices.
"CTAs are now very short equities, neutral bonds and gold, and long the USD," the strategists led by Parag Thatte wrote in a note.