Quant Warnings Get Louder Over Beloved Defensive Stock Trade
(Bloomberg) -- As panicky investors dive for cover from the threat of the coronavirus, quantitative strategists are stepping up warnings over one of the more popular places to hide.
A strategy of buying low-volatility stocks already looked richly valued in the lead up to recent turmoil, they argue, and having taken in yet more cash recently the bubble risk has only increased.
The theory is that the relative performance of cyclical industries and more volatile value stocks should improve once the market bottoms out -- all at the expense of sleepier equities.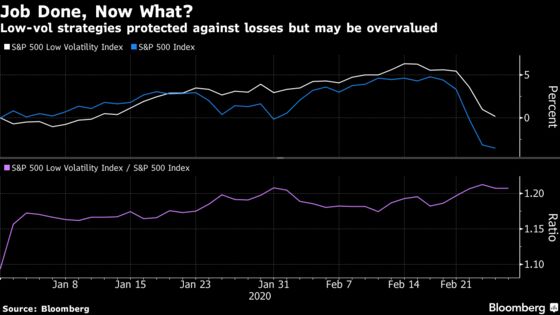 "The strong low-volatility outperformance this week is a direct reflection of the market underperformance," Sanford C. Bernstein strategists including Inigo Fraser Jenkins wrote in a report. They've been bearish on the factor for months, and reiterated their recommendation to short it because it's become so expensive in the U.S.
Investors have been piling into exchange-traded funds tracking low-volatility shares over the past year, with the iShares Edge MSCI Min Vol USA ETF and Invesco S&P 500 Low Volatility ETF receiving a combined $1.76 billion in inflows this month alone, according to data compiled by Bloomberg.
That's helped guard traders from some of the worst of the recent equity plunge: The S&P 500 Low Volatility Index had this year slipped 1% as of 9:48 a.m. in New York on Thursday, compared to a loss of 5.6% for the wider benchmark.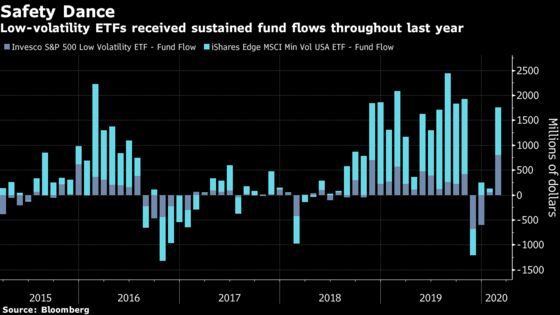 However, the low-vol factor won't always outperform, according to Masanari Takada, a quantitative strategist at Nomura. The bank's research shows that during past episodes of panic selling, minimum volatility strategies tended to outperform initially, before faltering within one to three months.
That kind of scenario is exactly what the likes of Marko Kolanovic, global head of macro quantitative at JPMorgan Chase & Co., are expecting.
"We remain positive on the market, with a strong preference for cyclicals, value and EM exposure over momentum and low volatility stocks," Kolanovic wrote in a note. "The virus should go, but stimulative measures will likely stay."