Quant Funds Dump Treasury Longs and Look for Trigger to Short
(Bloomberg) -- Quantitative hedge funds are busy liquidating loss-making long Treasuries positions and could begin to establish new short ones if the 10-year yield breaches 1.10%, according to market participants.
Momentum funds known as Commodity Trading Advisors likely drove the initial move upward in yields on Wednesday, based on activity in futures markets, Citigroup Inc.'s Edward Acton wrote in a note to clients. The funds have been cutting losses since 10-year yields reached around 1.02%, said Nomura Holdings Inc.'s Masanari Takada.
CTA funds "appear likely to keep closing out long positions with yields at 1.02% or higher," Takada wrote in a note Thursday. "We cannot rule out the possibility that CTAs could turn short," at yields of 1.10% or higher, he said.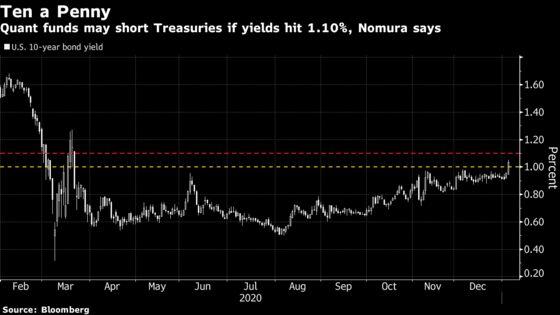 Benchmark Treasury yields broke through 1% for the first time since the pandemic-driven turmoil in March on Wednesday as traders weighed the implications of Democrats winning control of the U.S. Senate. They climbed as much as 10 basis points to 1.05% and remained around that level on Thursday.
Positioning from other investors who were already short Treasuries, and speculation over potential Federal Reserve purchases could be key to limiting a further selloff in the U.S. bonds. A JPMorgan Chase & Co. Treasury client survey on Monday noted the largest short positions since October 2018.
Option hedging may also play a role. Large bets against a significant slide in bonds have been built up in derivative markets, particularly around the 137 level in 10-year Treasury futures. Dealers on the other side of these trades -- who are long the downside bets -- may be actively hedging around this strike, which equates to a benchmark yield of roughly around 1.07%.
Still, a significant selloff in bonds driving benchmark yields well above 1.10% would likely need a marked shift in investor sentiment, according to Takada.
"For them to sustainably exceed 1.10% would require a clear change of heart among the major macro investors toward bearishness on Treasuries," he said.