Quant Manager AlphaSimplex Goes Long Treasuries in View for 2019
(Bloomberg) -- It's time to go all-in on U.S. Treasuries.
That's what Kathryn Kaminski, chief research strategist and portfolio manager at AlphaSimplex Group, is thinking. The statistical trends Kaminski and her team uses, combined with a bullish backdrop that includes the Federal Reserve's pivot to a more neutral monetary policy, are behind the view for 2019.
"We were very bearish on bonds in the fourth quarter," Kaminski said at a discussion on Friday sponsored by Natixis Investment Managers in New York for International Women's Day. This year, the $6.3 billion fund has turned "very bullish" on Treasuries and is acting on that view through long wagers primarily in futures, she said.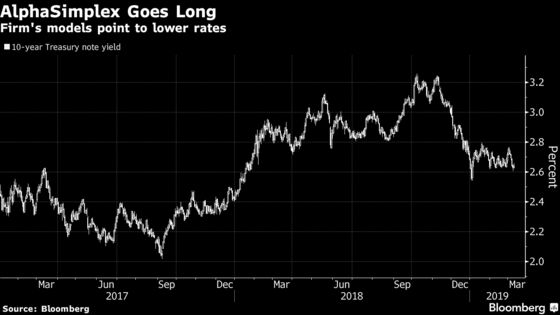 Benchmark 10-year Treasuries yield about 2.64 percent, close to the lowest in two months. They've dropped from a seven-year high of 3.26 percent in October as slowing global growth has spurred dovish signals from central banks. The yield ended last year at 2.68 percent.
The investment firm's managed-futures strategy is long 2-, 5-, 10- and ultra-long bond futures, with its models pointing toward lower rates in the short-run, Kaminski said by email Monday.
AlphaSimplex, an affiliate of Natixis Investment Managers, is a hedge fund started by Massachusetts Institute of Technology Professor Andrew Lo that uses statistical models and quantitative strategies to guide its views.
Last year, the fund was short "almost every asset class," said Kaminski, who co-authored the book "Trend Following with Managed Futures." Given the rebound in stocks this year, the Cambridge, Massachusetts-based fund has tempered its wariness toward equities.
It became "somewhat bullish again on equities in February, but the overall conviction level is still moderate in relative terms to what we see in bonds,'' she said.
Also speaking at the event were Elaine Stokes, a portfolio manager at Natixis affiliate Loomis Sayles & Co., and Marina Gross of Natixis's portfolio research and consulting group.
Both agreed that the Fed had turned decisively away from a more aggressive tightening stance in the wake of the fourth-quarter turmoil in markets and evidence of a cooling expansion worldwide.
"The Fed said they are paying attention to the markets,'' Stokes said.
She said it's become clear that the central bank under Powell is more focused on swings in asset prices than in the past.