Biggest Tech ETF Shows Signs of Life After $2 Billion of Outflows in a Week
(Bloomberg) -- After a week-long blood bath, investors returned to the biggest tech-heavy exchange-traded fund Tuesday.
The $63 billion Invesco QQQ Trust Series 1, better known as simply QQQ, took in $458 million on Tuesday after nearly $2 billion fled the ETF over the four previous sessions, putting it on track to lose the most cash since January. The price of the fund -- whose biggest holdings are Apple Inc., Microsoft Corp., Amazon.com Inc., Facebook Inc. and Google parent Alphabet Inc. -- has declined almost 5 percent since Nov. 7.
U.S.-listed ETFs tracking shares of technology companies have seen more than $3.7 billion of outflows in November, putting them well on their way to the worst month since the beginning of 2016. Still, some traders spotted a buying opportunity when the selling finally eased.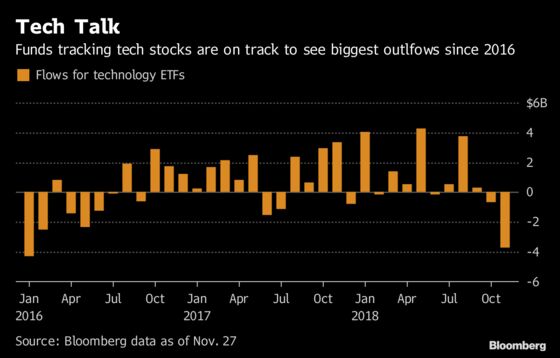 "Investors are dipping their toes back into tech after big outflows," said Christian Fromhertz, chief executive officer of Tribeca Trade Group. "Traders may be trying to get in on this relief rally, since the group has been pretty beaten down for the past few months."
The $773 million VanEck Vectors Semiconductor ETF, or SMH, also saw a cash infusion Tuesday, with around $97 million flowing in. Still, it's on track for a record month of outflows as investors "have been very short the space," according to Dave Lutz, managing director of JonesTrading. On Wednesday, UBS cut Micron Technology Inc.'s price target, citing concerns about the economic cycle for memory chips.
Tech stocks have been lagging recently with steep sell-offs in key names, including Apple, Facebook and Netflix. Companies that just a few months ago were setting records have since lost hundreds of billions of dollars in market value amid concerns that the best days of growth are in the past.
Cloud computing giant Salesforce.com helped spur investor enthusiasm Wednesday. Its shares surged after the company reported strong third-quarter results. That helped lift investor confidence in the economy and boosted indexes in early trading.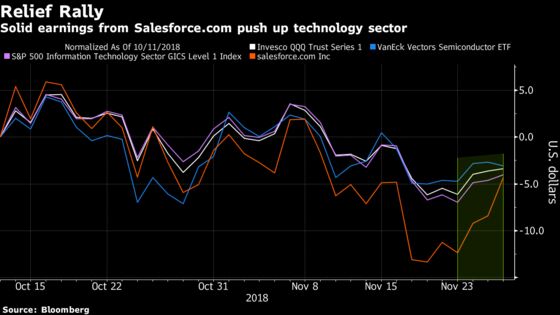 "Even in a slower growth environment, you're going to still have good earnings from the tech sector," said Hank Smith, co-chief investment officer at Haverford Trust, which manages $8 billion. At current price levels, he said Apple looks "very attractive."
That sentiment rang true to Bob Phillips, managing principal at Spectrum Management Group of Indianapolis, who sees "competitive value" in tech.
"They're still growing sales faster than the economy overall and cash flow and profits along with that," he said.