Puerto Rico Set to Reduce Development Bank's Debt
(Bloomberg) -- Puerto Rico is poised to restructure the Government Development Bank's debt by exchanging its bonds for $2.6 billion of new securities, the first such debt swap for the U.S. territory since it collapsed into bankruptcy in May 2017.
The transaction will restructure about $4 billion of Government Development Bank debt. Under a previously arranged agreement, investors will exchange their securities for new taxable bonds that will carry a 7.5 percent coupon and mature in 2040, according to bond documents for the transaction. Investors will receive 55 cents on the dollar, which includes principal and unpaid interest, according to the documents.
The exchange is the first of several that will likely be used by Puerto Rico to reduce the $74 billion of debt sold by various arms of the financially struggling island. While Puerto Rico and the bank's creditors negotiated the deal out of court, a federal judge overseeing the commonwealth's bankruptcy approved it on Nov. 6 after bondholders voted in favor of the deal.
Government Development Bank debt is trading below the expected 55 percent recovery rate. Bank notes maturing in 2023 changed hands last week at an average price of 46 cents on the dollar, according to data compiled by Bloomberg.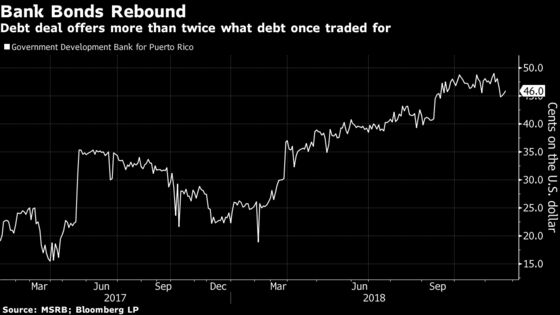 The government-sponsored bank served as the island's fiscal adviser and contributed to its over-borrowing by extending loans to the commonwealth and its agencies to help fill operating deficits as the economy shrunk.
While the purpose of the exchange is to help resolve Puerto Rico's debt crisis, the swap still includes risks, including the bank's limited assets and that it has no on-going business. There is considerable uncertainty about whether the restructuring property will offer sufficient cash flow to repay all of the new debt, according to the bond documents.
"Bondholders should not expect to receive payment in full in cash of principal and interest on the new bonds and, as a result, the new bonds are expected to trade at a significant discount to their stated principal amount," the government said.
The new bonds will be available for delivery on or about Thursday, according to the bond documents