Puerto Rico Tests the Trump Strategy to Wipe Out Debt
(Bloomberg Opinion) -- It turns out that President Donald Trump's ad-lib about wiping out Puerto Rico's debt wasn't as far-fetched as it seemed.
Longtime followers of the bankrupt U.S. commonwealth, which is attracting renewed attention thanks to Lin-Manuel Miranda and Jimmy Fallon, may recall when Trump appeared on "The Sean Hannity Show" in October 2017 and said the following about Puerto Rico, just a couple of weeks removed from Hurricane Maria: 
"They owe a lot of money to your friends on Wall Street. We're going to have to wipe that out. That's going to have to be — you know, you can say goodbye to that."
Many investors in the $3.8 trillion municipal market ultimately dismissed the remarks, anticipating that recovery rates would be worked out in court. And, indeed, that's largely been the case during the restructuring. But late Monday, a federal oversight board veered back toward the Trump path, saying that more than $6 billion of Puerto Rico's general-obligation bonds should be declared null and void because issuing them in the first place breached the island's constitutional debt limit. Some of the implicated debt, which was sold in 2014 largely to hedge funds, promptly plunged to as little as 45 cents on the dollar, the lowest in five months and down from 53.5 cents on Monday.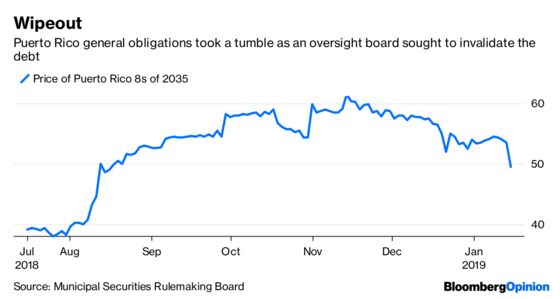 Figuring out how much Puerto Rico's full faith and credit pledge is worth has long been the
biggest challenge
facing the commonwealth as it seeks to make its unsustainable debt load more manageable. Holders of these securities have been locked in a bitter battle with other investors who own the island's sales-tax debt, known by the Spanish acronym Cofina, over who has the top claim on the government's money.
As Bloomberg News's Michelle Kaske reported, the Cofina side had previously argued that some G.O. debt was invalid because it was issued after the debt limit had been breached, though that came before the recent restructuring deal that would allow senior sales-tax investors to recoup 93 percent of their investment. Now the oversight board is taking that same stance, and, as Kaske notes, it has reason for doing so:
"The board's action comes after law firm Kobre & Kim conducted a probe for the panel into Puerto Rico's financial disclosures, how its bonds were marketed and other issues surrounding the borrowing that pushed it into bankruptcy. The report found that Puerto Rico could have had stronger mechanisms in place to vet bond deals before they were issued to ensure they didn't violate the territory's laws, including the debt limit."
This finding is hardly surprising: Wall Street played a big role in Puerto Rico's spiral toward bankruptcy. Banks were happy to collect juicy fees for underwriting debt sales and encouraging the use of new revenue streams to back securities (the first Cofina bonds were issued in 2007). Mutual funds and high-net-worth individuals, for their part, snapped up the bonds because their interest payments were exempt from federal, state and local government taxes. And, of course, local politicians were all too willing to borrow into an eager market.
So, almost two years into Puerto Rico's bankruptcy, we may get an answer to the key question: Should all of those people have known better? The response is almost certainly "yes." Anyone who studied the commonwealth closely could tell it was willing to pull any and all levers to keep the borrowed money coming.
The thing is, I'm not convinced that Cofina bondholders should get largely absolved while some general obligations are wiped out entirely. Sure, the board can claim the G.O. sales in question were more recent — in 2012 and 2014, compared with the last sales-tax debt deal in 2011 — but that skirts around the issue of whether Puerto Rico can effectively claim its full faith and credit pledge really means "full faith and credit except for the revenue streams that were carved out to back other borrowings." It seems like G.O. bondholders could make a case (and they have) that the Cofina structure was an improper workaround of the territory's debt limit. 
So far, though, those claims haven't been enough to persuade U.S. District Court Judge Laura Taylor Swain, who dismissed a lawsuit in January 2018 from G.O. investors who said the constitution gave them priority whenever there wasn't enough money to pay all the government's bills.
Matt Fabian, a partner with Municipal Market Analytics, put it more bluntly to Kaske: "The courts generally allow the debtor to act as they please, so even a logical inconsistency this glaring probably won't get in the way of plan implementation." He agrees that there might be a stronger argument that Cofinas violated the debt limit.
The rest of the muni market would probably appreciate it if Puerto Rico's restructuring resolved some lingering questions— specifically, how G.O. bonds should fare in cases of extreme distress. Connecticut is a ways away from such a scenario, but it nevertheless raised red flags last year when it said it would issue a new class of securitized bonds that would effectively push its outstanding full faith and credit debt into a subordinate position. Chicago has issued new, higher-rated securities through the Sales Tax Securitization Corp., which is set to sell more taxable obligations this week.
The entire situation in Puerto Rico is complicated and messy, so it's easy to understand why the board would latch onto a finding that seems cut-and-dried: Puerto Rico borrowed when its constitution said it couldn't. Canceling $6 billion would also make the rest of the restructuring easier, of course. It's not necessarily this judge's job to think about the implications for all state and local government debt. But for municipal bond buyers, the outcome could prove critical for the next big default, wherever that might be.
This column does not necessarily reflect the opinion of the editorial board or Bloomberg LP and its owners.
Brian Chappatta is a Bloomberg Opinion columnist covering debt markets. He previously covered bonds for Bloomberg News. He is also a CFA charterholder.