Private Prison Finds Friendly Banker in Nomura After Bank of America Bails
(Bloomberg) -- Executives at CoreCivic Inc., one of the largest for-profit operators of prisons and immigrant-detention centers in the U.S., were facing dwindling financing options.
Just as the company was preparing to refinance about $325 million of debt in June, Democratic presidential candidate Elizabeth Warren announced a plan to ban private prisons, sending shock waves through the industry. A few days later, the company's longtime lender, Bank of America Corp., joined the growing ranks of Wall Street firms announcing their intention to stop doing business with the industry.
Plans for a new debt sale were ultimately shelved, leaving investors to speculate when, and at what price, the company would be able to regain access to capital markets.
That's when Nomura Holdings Inc. stepped in.
As U.S. banks, pension funds and private equity firms face growing pressure to cut ties with companies that profit from mass incarceration, the Japanese investment firm is filling the void. In addition to arranging fresh financing for CoreCivic, it also signed on to serve as the administrative agent on the new facility after Bank of America, which had been the agent on an existing revolver and term loan, resigned.
Representatives for Brentwood, Tennessee-based CoreCivic and Bank of America declined to comment. Nomura did not respond to requests seeking comment.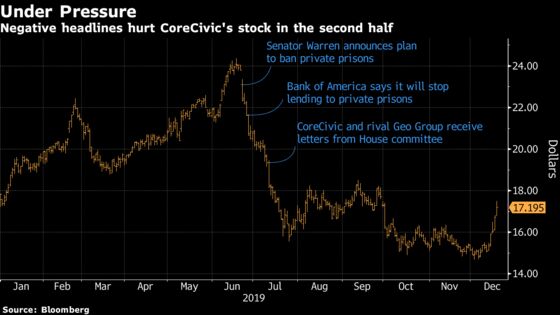 CoreCivic had originally turned to Citizens Financial Group Inc., one of its other existing lenders, to manage a $250 million, seven-year loan in June, according to people with knowledge of the matter, who asked not to be named discussing confidential information.
But the slew of negative headlines, including the release of Warren's plan and Bank of America's announcement, sent shares of CoreCivic plunging, and the deal was never completed.
"We do maintain a commitment to lending to companies that conduct their business in a socially responsible manner," Peter Lucht, a spokesman for Citizens, said via email while declining to comment on CoreCivic specifically. "If that is not the case we are prepared to exit those relationships."
In the following months, CoreCivic moved to reassure investors it could draw on a revolving credit facility to help pay off a $325 million bond due in April of 2020.
On a conference call in early August to discuss second-quarter earnings, executives struck an optimistic tone with investors as the company reported better-than-expected profits.
"Although the price for our debt and equity have been affected primarily by recent headlines from some of the industry's banking partners, we will continue to monitor capital markets and may alternatively issue debt securities or obtain other forms of capital to refinance these notes," Chief Financial Officer David Garfinkle said on the call.
At a private conference hosted by Deutsche Bank AG in Scottsdale, Arizona in late September, CoreCivic executives indicated that the company was considering a number of options to raise new debt, including regional banks, non-bank lenders and private capital providers, some of the people said.
In November, investors started getting calls from Nomura pitching a new version of the financing Citizens had previously attempted, shortening the maturity to five years from seven, the people said.
Eventually, CoreCivic had to pay a significant premium to tap the market, reflecting the growing concern of being associated with the private-prison industry among the institutional investors that ultimately buy the loans.
The $250 million of debt was issued at a spread of 4.5 percentage points over Libor and at a discount of 95 cents on the dollar, according to the people. That compares with an average risk premium of about 2.5 percentage points for similar-rated BB loans over the past few months, data compiled by Bloomberg shows.
"CoreCivic's difficulty in placing the deal is the result of the increased inclusion of ESG factors in the investment process of many fixed income investors," Pierre Beniguel, a portfolio manager at TwentyFour Asset Management, wrote in a blog post on Monday, referring to environmental, social and governance criteria used to screen potential deals. "Despite the company's improving fundamentals, this increased focus on ESG has eroded its access to markets."