Tuition-Free School's Endowment Misses Private Equity Gains
(Bloomberg) -- Private equity investments are helping boost returns for some of the richest college endowments. Berea College missed out.
The private school in Kentucky has about 5 percent of its endowment assets in private equity. The fund posted an investment gain of 6.7 percent in the 12 months through June 30, a period when many peers with at least $1 billion are reporting double-digit performance.
"They're not anything to write home about," Jeff Amburgey, Berea's vice president for finance, said about the recent returns. He added that the school is reconsidering the allocation. The endowment was valued at a record $1.2 billion as of June.
The biggest endowments typically invest heavily in alternatives. Funds with more than $1 billion have an average of 12 percent dedicated to private equity, according to the National Association of College and University Business Officers.
The median return for all endowments in the year ended June 30 is 8.3 percent, according to data compiled by consultant Cambridge Associates. Vanderbilt University, which gained 12.6 percent, and University of Pennsylvania, which increased 12.9 percent, are among the schools that said returns were aided by private equity.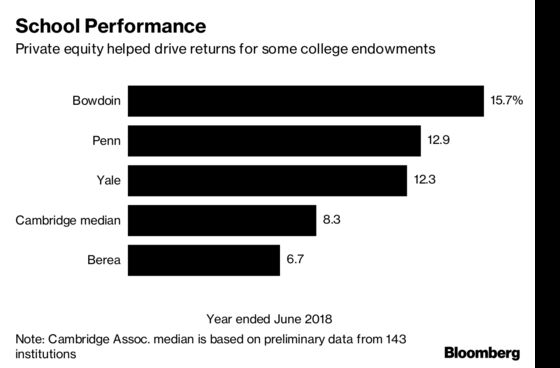 In fiscal 2017, when global stocks drove returns, Berea gained 13.1 percent. Its largest allocation as of this past June was to global equities at 53.6 percent.
Private equity was the second-best performing asset class for Berea at 12.4 percent, behind commodities. But Berea's overall performance couldn't be lifted with such a small slice dedicated to private equity.
The school is considering increasing its allocation to private equity, Amburgey said. The endowment had an annualized 4.9 percent gain in the past decade.
Funds shouldn't add private equity just for the sake of it, said Michael Karris, an investment adviser who uses index funds for institutional clients.
"Private equity should deliver superior long-term returns for top institutional investors who have the resources to pick the best managers," said Karris, who formerly worked at Columbia University's endowment.
Berea had been expected to pay a new endowment tax of 1.4 percent of net investment income. It applies to colleges of more than 500 students whose endowment is $500,000 or more per student.
The school was spared when the words "tuition paying" were added to the tax legislation. Berea, which doesn't charge tuition and admits only low-income students, relies on the fund for 75 percent of its annual budget. Since the spending rate is determined on a weighted three-year average, its budget isn't in jeopardy, Amburgey said.
"Historically, Berea has been particularly sensitive about illiquidity because they charge no tuition and are so largely dependent on the endowment," said Jonathan Hirtle, executive chairman of Hirtle Callaghan & Co., which manages the endowment.