Private-Debt Market Offers Rare 12% Yields, But There's a Catch
(Bloomberg) -- Scott Bluestein has a favorite type of debt investment: companies with no profits, no cash flow, and in some cases even no revenue.
While that may seem like a recipe for disaster for most fixed-income money managers, it's perfectly normal in the world of venture debt. And few companies in the space have been more successful in recent years than Bluestein's Hercules Capital Inc., the largest nonbank lender in the business.
The market for venture debt operates largely in the shadow of venture equity, the segment of startup financing famous for providing early funding for technology giants such as Facebook Inc. and Alibaba Group Holding Ltd. Winning wagers tend to not produce the sort of eye-popping payouts the equity side has become renowned for, but they're also less risky, relatively speaking. Flying under the radar also has its benefits, according to Bluestein.
While investors have plowed hundreds of billions of dollars into direct-lending funds over the past few years amid a global hunt for yield, the $15 billion venture debt market has yet to see the same influx of cash. As a result it's largely avoided the intense competition, record dry powder and pricing pressures seen in other corners of private credit. In fact, the Hercules chief executive expects core loan yields to keep pace with the long-term average of about 12% going forward.
"Venture debt has historically mystified the direct-lending market," Bluestein said in an interview. "We have the opportunity to partner with and help finance some of the most exciting growth-stage technology and life-sciences companies in the world."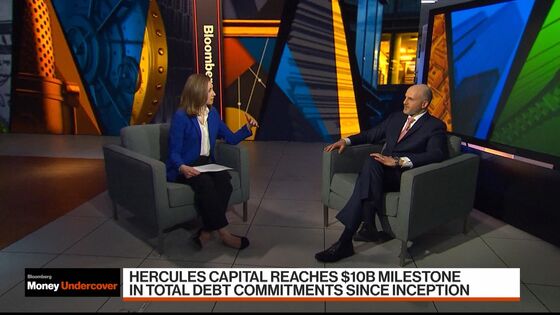 Hercules's current borrowers include rare-disease drug developer BridgeBio Pharma Inc. and fake-meat producer Impossible Foods Inc.
Lending to such companies requires a unique blend of credit, equity and industry expertise, according to Bluestein. The ability to assess why the companies are burning cash is critical.
"Venture lending is a pretty esoteric, specialized part of the market," Bluestein said. "It requires significant domain expertise. It requires an achievement of scale from a performance perspective."
Hercules originally provided BridgeBio a $35 million secured term loan in June 2018. The financing had grown to $75 million by the time BridgeBio went public a year later. Since then, its market capitalization has ballooned to $4.3 billion.
As for Impossible Foods, Hercules closed a $50 million commitment in the second quarter of 2018. A year later, the meat-substitute company reached a $2 billion valuation. In both deals, Hercules made equity investments alongside the loans. In others, it often receives equity kickers in the form of stock warrants.
Of course, the lender's record isn't spotless. Portfolio company Sungevity Inc. filed for bankruptcy in 2017, and the debt was subsequently converted into equity of the company that bought some of its assets. BIND Therapeutics Inc. went bust in 2016, though Hercules says it was able to fully recover its outstanding commitment.
Last year, the company's main challenge was unrelated to its investments. Founder and then-CEO Manuel Henriquez was forced to step aside after being charged by federal prosecutors in March for participating in the college-admissions cheating conspiracy.
Wall Street was quick to cut its expectations for publicly-traded Hercules's shares, worried that access to capital and origination growth may be hurt. The stock has since recovered, and the company said earlier this week it had surpassed more than $10 billion in committed debt capital since its inception in 2003. Assets under management stood at $2.3 billion as of Sept. 30.
Others are also growing in the space. Avenue Capital has sought to raise about $500 million for a venture debt fund, Reuters reported in November. Specialty lenders in the business also include TriplePoint and Horizon Technology Finance, while Silicon Valley Bank is seen as an industry pioneer.
Still, the strategy isn't for everyone. Direct-lending giant Ares Capital Corp. exited the space in 2017, offloading its $125 million portfolio of venture loans to Hercules. CEO Kipp deVeer at the time attributed the exit to the overwhelming challenge of overseeing so many small and complicated financings.
Along with being relatively small, maturities on the loans tends to be short. That makes for a fast-churn, research-intensive business. The average tenor of a Hercules loans is 36 to 48 months, but the actual average duration is just a year-and-a-half, according to Bluestein.
"Our portfolio turns about every 18 months," Bluestein said. "The treadmill is set at 10, and you can't stop."
While recent high-profile venture-capital stumbles such as WeWork may make investors wary of startup financing broadly, Bluestein welcomes the greater scrutiny and caution, acknowledging there have been a number of so-called unicorns where valuations reached extreme levels.
"It's a positive. It puts more focus on fundamentals," Bluestein said. "Anything that makes the market more realistic is good for business."