Princeton Posts 14.2% Gain to Lead Ivy League Endowment Returns
(Bloomberg) -- Princeton University's endowment posted an investment gain of 14.2 percent, the best annual return of seven Ivy League schools that have reported performance for the period.
The value of the fund rose to $25.9 billion in the 12 months through June 30, the New Jersey school said Monday in a statement. That's a record-high value for the endowment.
Some of the best-performing endowments this year have said gains were driven by private equity and venture capital. Princeton didn't disclose which strategies performed well. Earnings from the endowment cover more than half of the school's annual operating budget and help fund strategic initiatives, Provost Deborah Prentice said in the statement.
"Those initiatives include our long-standing commitment to providing access to a Princeton education to students from all economic backgrounds, making it possible for them to attend regardless of ability to pay and without the need to take out loans," she said. "Without a strong endowment we would not be able to support our students and faculty in the way that we do."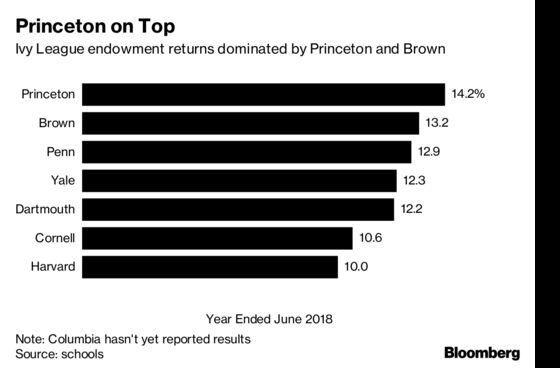 Brown University, with the smallest fund in the eight-member Ivy League, was second to Princeton, with a gain of 13.2 percent. Harvard University, which returned 10 percent, has the lowest return of the group. Columbia University hasn't posted results yet.
Each of the Ivies that have reported surpassed the median gain of 8.3 percent for 143 endowments of all sizes, according to consultant Cambridge Associates.
For fiscal 2018, one quarter of Princeton's target allocation was each dedicated to private equity, which includes venture capital, and independent return, which seeks returns that aren't tied to broad market trends, according to the most recent treasurer's report.
The rest of the portfolio was allocated to domestic and foreign equity, emerging international stocks and real assets.
Andy Golden has managed Princeton's endowment since 1995.