Princeton Endowment's 5.6% Gain Driven by Stocks, Private Equity
(Bloomberg) -- Princeton University's endowment, a critical source of funding that covers more than half of the Ivy League school's operations, returned 5.6% in the latest fiscal year.
Developed market equities was the best-performing asset class with a 24.6% gain, followed by private equity at 12.1%, Andrew Golden, president of the Princeton University Investment Co. since 1995, said Monday in an interview.
The fund, with an average annual return of 10.6% over the past decade, increased to $26.6 billion as of June 30, the university said in a statement.
The results, usually among the strongest in the eight-member Ivy League, were roughly in the middle of the pack for fiscal 2020. Brown University's 12.1% return was the best, with Cornell University posting the lowest return at 1.9%.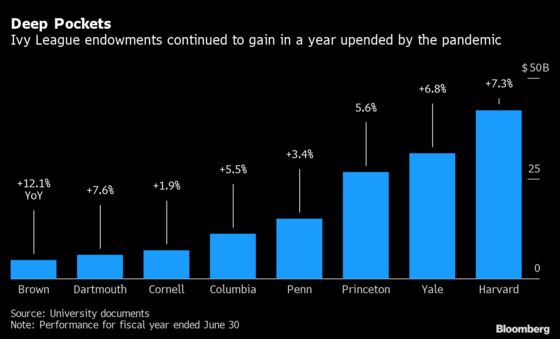 Higher education institutions across the U.S. are grappling with sharp revenue declines as the Covid-19 pandemic curbs enrollment. They were hit hard with refunded room and board fees after clearing students from campuses in March. This semester, some colleges are holding classes entirely online.
Princeton, which cut tuition by 10% for undergraduates this academic year, is especially dependent on the endowment as it funds more than 60% of the budget.
"Princeton has been fortunate to face the many financial challenges created by the Covid-19 pandemic from a strong budgetary position, thanks in part to an endowment that is the result of generations of generosity from alumni and friends," Provost Deborah Prentice said in the statement.
U.S. endowments earned a median investment return of 2.6% in the latest fiscal year, the lowest since 2016, according to the Wilshire Trust Universe Comparison Service. The funds broadly trailed the S&P 500, which returned 7.5%. Endowments typically seek to earn 7% on average each year to fund university operations, such as professor salaries and financial aid, and account for inflation.