Prices Gone Haywire Attract Billions to Dislocated-Debt Funds
(Bloomberg) -- Credit markets are a chaotic mess, riven by deeply distressed prices, sudden downgrades and warnings of bankruptcy. To some money managers, it's a perfect, once-in-a-lifetime opportunity.

Highbridge Capital Management, Sculptor Capital Management and Knighthead Capital Management are among investment funds raising mountains of fresh cash to buy mispriced loans, bonds and other forms of credit that were dumped in the March rout. They're amassing it in batches of $200 million to $2.5 billion to go after dislocated debt, and most are aiming to put the money straight to work.
"It's like 2009 all over again -- some of the documents are even the same," said Timothy Clark of law firm Dechert LLP, hearkening back to the last financial crisis when credit investors made handsome profits in a matter of months. "Those who raise funds earlier, even if they weren't the most talented, got the biggest returns," said Clark, who represents clients in fundraising and fund formation.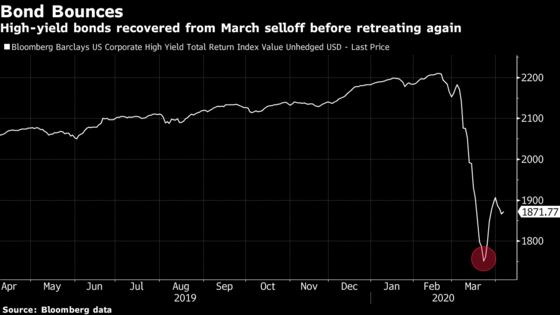 Investment managers typically aren't allowed by the Securities and Exchange Commission to discuss their fundraising efforts publicly, but firms reported by Bloomberg to be seeking money for credit dislocation portfolios include:
Highbridge Capital, which is launching two funds totaling around $2.5 billion
Sculptor Capital, the former Och-Ziff hedge fund business, which took in more than $1 billion across its existing credit funds
Varde Partners, launching a $500 million to $1 billion credit dislocation fund
Knighthead Capital, seeking $450 million for a distressed-debt fund
Greywolf Capital Management, collecting as much as $400 million for a new distressed credit fund
Bardin Hill Investment Partners, which raised $300 million to go after special situations and stressed credits
Silverback Asset Management, preparing a $200 million fund for troubled credit
In addition, York Capital Management last month surpassed its fundraising goal for a distressed debt fund that's now over $1 billion in assets, according to a person familiar with the situation, who asked not to be identified discussing a private matter.
The intended targets aren't necessarily struggling companies. Dislocations can include issuers of higher-grade debt that's priced well below where it should be, based on business fundamentals or relative to other assets. Anomalies might also include prices and yields that deviate far from their long-term averages.
"Whenever you see extreme volatility and downside scenarios, it's typically a very good time to put money to work," said Jason Dillow, chief executive officer of credit hedge fund Bardin Hill Investment Partners, which manages $9.3 billion. Dillow declined to comment on his firm's fundraising efforts.
Dislocation funds typically have shorter tenures of around three years, instead of a traditional seven to 10 years, Dechert's Clark said. They're structured with the same fees, but the returns come faster as the money is put to work immediately in opportunities of the moment.
Investors feeding money into the new funds have to be comfortable with the immediate uncertainties, and see the same opportunity set that the firms deploying the cash do, said David Nissenbaum, co-head of the investment management group at law firm Schulte Roth & Zabel.
Those firms usually are no strangers to troubled situations. Knighthead is one of the more active debt holders in the bankruptcy restructuring of PG&E Corp. But for years, there was little or nothing to buy as low interest rates and easy terms kept companies afloat.
After last month's disruptions, some managers aren't wasting any time deploying their cash.
Angelo Gordon & Co. went on a debt-buying spree late last month, betting that the Federal Reserve's sweeping plan to contain the economic fallout from the spreading coronavirus would calm financial markets. The mostly investment grade-rated assets it acquired had been trading at discounts and snapped back after the Fed took action.
Even Howard Marks, the dean of distressed investing at Oaktree Capital Group who was counseling caution as recently as last week, is now saying it's time to stop playing defense.
"The opportunity set in our corner of the world is as good as I've ever seen," Bardin Hill's Dillow said. "And it doesn't appear to be abating anytime soon."
Read More: Oaktree's Marks Says It's Time for Investors to Go on Offense