Nissan Sales May Bounce Back From Collapse on Discounts, Fleets
(Bloomberg) -- U.S. auto sales likely softened in April, with Nissan Motor Co. bucking the trend with a 13 percent jump. But don't be fooled -- it was a year ago that the company shocked the market with a 28 percent collapse, creating an easy comparison.
The industry's seasonally adjusted annualized rate of sales in April may have slowed to 16.8 million cars and light trucks, according to the average estimate in a Bloomberg News survey, from 17.1 million a year earlier. Most companies will release results on Wednesday; General Motors Co. and Ford Motor Co. report on a quarterly basis.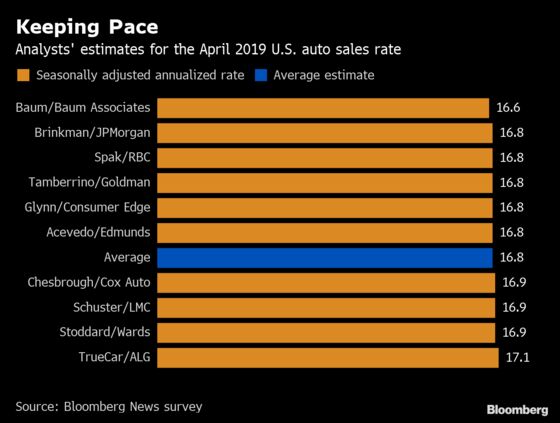 Nissan hasn't stayed committed to tapping the brakes on incentives and discounted deliveries to rental-car companies -- moves that can prop up sales but also damage earnings and the long-term health of car brands. The company's U.S. sales slipped 6.2 percent last year, and were down 12 percent in the first quarter of 2019.
Roiled by the arrest of former Chairman Carlos Ghosn last November, the automaker has reshuffled executives around the globe. Latin America chief Jose Luis Valls took charge of U.S. sales in January and became chairman of North American operations in April, replacing Denis Le Vot, who was in the job just 14 months.
Nissan may have strayed from the straight-and-narrow path with regard to discounts last month. TrueCar's ALG estimates the company boosted incentive spending by 14 percent, while the industry average declined 4.2 percent. RBC Capital Markets also expects the carmaker's April sales to be aided by deliveries to fleets.
Overall U.S. retail sales likely continued their slump in April, according to LMC Automotive, as automakers held back the line on consumer discounts, but continued to rely on shipments to commercial customers and rental-car companies to make up the difference.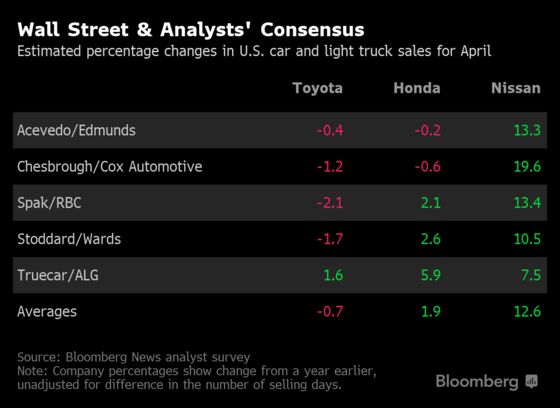 RBC (Joseph Spak): Expects average transaction prices to increase y/y, partly driven by mix

Continues to project 2019 demand at 16.7 million
Estimates industry inventory at 73 days, above March's 68 days, and up one day from 72 in April 2018

TrueCar's ALG (Oliver Strauss): In line with the trend this year, the auto industry continues to show some struggle in retail sales

Nevertheless, reaching 17 million SAAR for the second consecutive month is an indicator of health and stability and consumers continue to remain confident in a robust economic environment
Average incentive spending by automakers should reach an estimated $3,488 per vehicle in April, down $152 or 4.2% from a year ago, and down 4.2% from March
For April, ALG estimates average transaction price for new light vehicles was $34,319, up 2.9% from a year ago, while incentives as a percentage of average transaction price was 10.2%, down 6.9% y/y