Prepare to Hold More Chinese Stocks as MSCI Decision Arrives
(Bloomberg) -- Investor sentiment in China is flipping all over the place just as MSCI Inc. deliberates on the country's equities.
Yuan-denominated shares were struggling when the index provider said in September it was considering increasing their weight in its global benchmarks, as well as including smaller technology firms. The ChiNext gauge of such stocks slid 15 percent to a five-year low in the ensuing three weeks, while 2018 as a whole saw $2.3 trillion wiped off Chinese stocks.
Now, just a few months later, A shares are in a rally so sudden that a bull market materialized in 32 trading days and virtually all momentum indicators entered hot territory. Milestones untouched in years are being crossed, such as turnover breaching 1 trillion yuan ($150 billion) and margin trading rising for 12 straight days. The ChiNext has trounced pretty much everything.
It makes for interesting timing for index-tracking investors, who will find out Thursday evening New York time whether they'll have to buy more A shares.
"The rapid gains in the market may concern foreign investors," said Zhu Chaoping, a global market strategist with JPMorgan Asset Management. "Active managers have been pouring money into A shares but now may need to take a break and ponder. They could choose to hold their money until it cools down."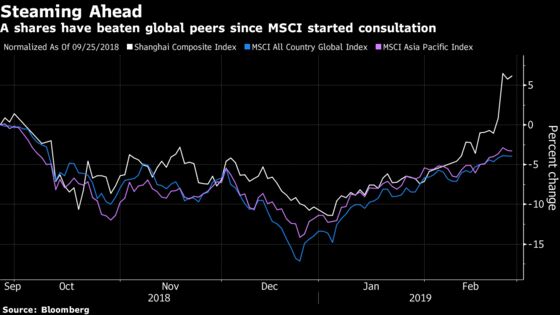 MSCI will say if it decided to lift a cap on free-float-adjusted market value to 20 percent from 5 percent for yuan-denominated stocks. The implementation would occur in two stages this year and mean that A shares made up 2.8 percent of the MSCI Emerging Markets Index by August, according to a consultation paper. MSCI will also decide whether to make equities listed on the tech-heavy ChiNext board eligible from May, and mid-cap stocks from 2020.
After three failed attempts, China's domestic equities won entry into MSCI's benchmarks in June 2017 and were added in two tranches in 2018. Those first steps were too small to help revive last year's downbeat Chinese market, which is dominated by retail traders. Analysts at Goldman Sachs Group Inc. said 20 percent inclusion could attract $60 billion of potential buying.
Foreign investors bought more than 290 billion yuan of A shares via exchange links with Hong Kong last year. They loaded up on all but one trading day this month through Wednesday, pouring in about 58 billion yuan. That translates to more than 4 billion yuan a day on average, making February a record month for foreign inflows, according to data compiled by Bloomberg.
This year's surge in A shares may partly reflect expectations that MSCI will increase their weight, according to Tony Peng, head of investment at Aberdeen Standard Investments Taiwan Ltd. Bringing more foreign capital into China's equity market is an important part of reigning in speculative trading, he said.
"It's a long-term positive for China," Peng said. "Increasing fund flows from international investors will help make China markets more institutionalized. The A-share market is still a casino."