Deutsche Bank Warns Powell's Remarks Were 'Misunderstood' by Markets
(Bloomberg) -- Skeptics are warning U.S. stock investors they overdid it with their exuberant reaction to comments from Jerome Powell on Wednesday.
Traders read too much into the Federal Reserve chairman's comments that suggested interest rates may not need to go much higher, according to reports from Deutsche Bank and RBC Capital Markets. Instead, they should focus on fundamental economic data that suggest the U.S. central bank will need to raise borrowing costs to keep wages and inflation in check.
U.S. equities slipped Thursday as doubts took hold, a day after the biggest gain in more than eight months was sparked by speculation borrowing costs will stay low following Powell's remarks that the Fed's series of rate increases had brought them "just below" the range of estimates of neutral. Traders saw it as a shift in tone from remarks last month when he said rates were a "long way" from neutral. But investors may have overreacted.
"Powell was misunderstood," Torsten Slok, Deutsche Bank's chief international economist, wrote in a note. "Let's take a look at the incoming data."
What that data show, according to Slok, is that without an increase in interest rates, wage growth is likely to crimp corporate profits at the same time it fuels faster inflation. The Fed is likely to act to avoid a situation where surging consumer prices will weigh on both stocks and fixed-income markets, the Deutsche Bank economist said.
"If the Fed doesn't try to cool down the strong trends we see in wage growth, then higher labor costs will push long rates higher and profit margins and equities lower," Slok wrote in the report. "We run the risk of returning to 1970s-style unanchored wage inflation with an associated bear market in both bonds and equities."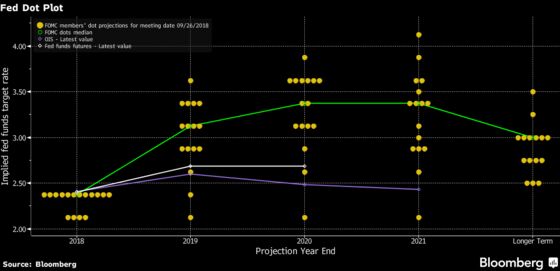 That rang true to Chris Low, chief economist at FTN Financial.
"Powell's comment is being treated as a game changer, but it's not really," he wrote in a note Wednesday. The remarks are "entirely in line" with what he said last month and the September dot plot, which showed interest rates likely to increase next year, Low said.
"What the Fed Chairman did – yet again – was suggest we are getting to a point where the Fed cannot offer the kind of certain policy guidance we have grown accustomed to in the past year," he wrote.
Stocks edged lower in early trading Friday on concerns over U.S. trade negotiations with China and the outcome of President Donald Trump's G-20 dinner meeting with his Chinese counterpart Xi Jinping this weekend. The S&P 500 fell 0.3 percent as of 10:15 a.m. in New York.
The truth is, it's difficult to know what exactly the Fed chairman meant by his remarks.
"If there has been one certainty of late, it is the market's ability to misinterpret Fed Chairman Powell," Tom Porcelli, the chief U.S. economist at RBC Capital Markets, wrote in a note.