Powell Revives Growth Stocks for Best Week in Seven Years
(Bloomberg) -- Good news for investors who just poured a record sum of cash into the largest growth stock ETF -- a more dovish Federal Reserve has lit a fire under the popular quantitative strategy it tracks.
A pure version of a U.S. growth portfolio, which centers around stocks with strong earnings, is on track for its best week since August 2011, according to data compiled by Bloomberg.
Thank the bond rally spurred by Fed Chair Jerome Powell and his assurance that rates are "just below" neutral for swelling appetite for growth shares, which are dubbed longer-duration assets.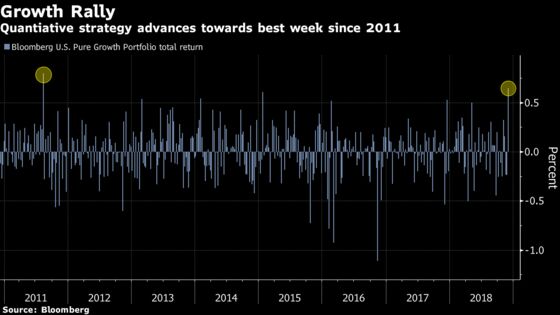 "The fact that the U.S. 10-year decreased to 3 percent was a relief for growth stocks," said Louis De Fels, a Paris-based fund manager at Raymond James Asset Management International. "The more the rate moves south, the more you can justify the high valuations."
The quantitative strategy is especially vulnerable to rising interest rates given its lack of dividends and high valuations. Take October, when 10-year yields hit their highest level since 2011. Growth posted its steepest monthly decline in over a year, punishing hedge fund darlings and equity quant returns alike.
The cohort had become oversold, and Powell's comments served as the catalyst for a technical rebound, said Fels. By early trading Friday, the pure growth index had recouped all of last month's losses and added on an additional 0.1 percent gain.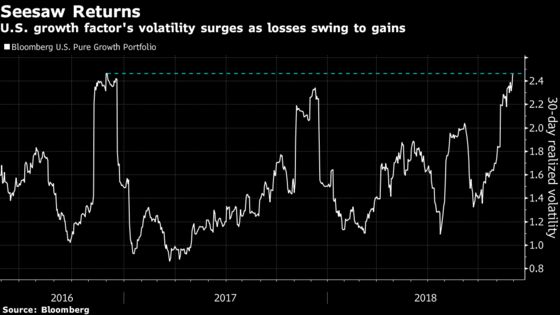 It's been a wild ride for investors tracking the strategy, with 30-day volatility jumping to the highest in two years.
Armed with more-dovish monetary bets and a price still below this year's peak, growth may have more room to rally, reckons Craig Erlam, a senior market analyst at securities firm Oanda Corp. in London.
"These stocks are trading at a heavy discount now to what they were in September which will draw in the bargain hungers," he said. "The next few months could be much more positive."