Pound Volatility Premium Over Euro to Persist on Brexit Concerns
(Bloomberg) -- Buying protection over fluctuations in the pound will remain a relatively costly exercise as Brexit headlines gather momentum and central banks slowly tighten policy.
Uncertainty over the endgame of Brexit talks -- key disagreements still need to be addressed -- and risks that euroskeptic Conservatives may challenge U.K. Prime Minister Theresa May's leadership may support gamma demand for sterling. The same cannot be said for the euro, as one-month volatility in euro-dollar extended its recent drop as the European Central Bank stuck to its well-communicated patient monetary tightening.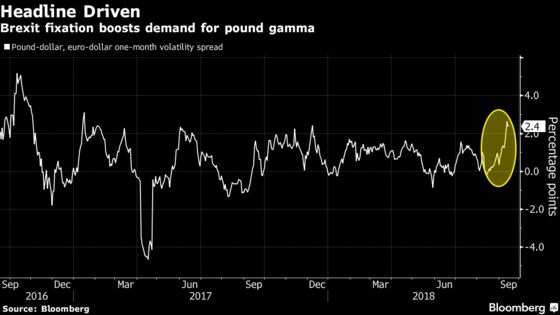 Sterling volatility over the one-month tenor is the highest across the Group-of-10 currencies as the U.K. and the European Union enter the last stages of the Brexit negotiations. The gauge hit its strongest level since February on Wednesday, almost two percentage points above its year-to-date average, as the two sides were seen preparing for a special summit to sign the Brexit deal in November. Volatility got a boost in early August on concerns over a no-deal, with the one-month gauge rebounding from a six-month low.
Euro volatility, however, hit a five-week low after President Mario Draghi adopted another balancing act on Thursday. He downplayed lower growth projections by highlighting that the euro-area economy is still solid enough to cope with global risks, sounding rather upbeat on inflation prospects. Soft data out of the U.S. keep market pricing lagging that of the Federal Reserve when it comes to higher interest rates, resulting in subdued demand to own euro volatility, which could persist at least until the Fed meeting on Sept. 26.
As a result, the spread between one-month implied volatility in pound-dollar and euro-dollar steepened last week to the most since January 2017. Correlation between Brexit headlines and pound volatility hit a record high Friday above 70 percent and an EU summit on Sept. 19-20 may provide another round of news for long-gamma sterling trades.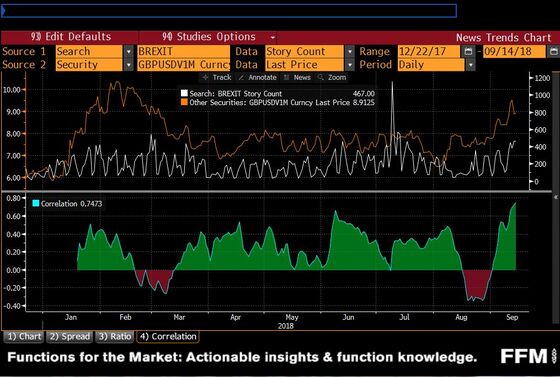 A gauge of global volatility stayed near its five-year average as a new era of sustainable higher levels needs a move from several major central banks that would closely resemble that of the Fed, rather than the one-and-done approach seen by the Bank of England. The Norwegian central bank is expected to announce its first rate hike in seven years this week, yet its effect on a global basis will probably resemble that of the Riksbank's announcement to hike by February 2019. Too little and too slow to spur volatility demand.
NOTE: Vassilis Karamanis is an FX and rates strategist who writes for Bloomberg. The observations he makes are his own and are not intended as investment advice
German Chancellor Angela Merkel and Austrian Chancellor Sebastian Kurz meet on Sept. 16 ahead of an EU summit that's expected to focus on Brexit

The EU's chief Brexit negotiator Michel Barnier briefs European affairs ministers the following day
EU summit on migration and the latest U.K. proposals for withdrawing from the bloc early next year takes place on Sept. 19-20

The Bank of Japan concludes its two-day monetary policy meeting on Sept. 19; the next day, the Swiss National Bank and Norges Bank announce their policy decisions

SNB is likely to keep its deposit rate unchanged at minus 0.75 percent and issue new growth and inflation forecasts, while the Norwegian central bank is expected to raise rates, the first boost in seven years

Sweden's Riksbank publishes minutes of its September meeting on Sept. 17; Governor Stefan Ingves to speak
Policy makers' speeches include ECB's President Mario Draghi, board members Benoit Coeure and Peter Praet, Riksbank First Deputy Governor Kerstin af Jochnick, Bank of England's chief economist Andy Haldane
Economic releases include euro-area inflation and consumer confidence, U.K. inflation and retail sales, U.S. leading index and PMI; see data calendar
South Korean President Moon Jae-in visits North Korean capital Pyongyang for a summit with Kim Jong Un on Sept. 18-20, the first such trip by a Seoul leader in 11 years