Pound Falls Most Since 2017 as May's Brexit Divorce Plan Rocked
The pound slumped and gilts rallied as several U.K. ministers resigned less than 24 hours after Prime Minister Theresa May said she had won cabinet approval for a deal with the European Union.
Sterling slid the most in more than 17 months after ministers including Brexit Secretary Dominic Raab and Work and Pensions Secretary Esther McVey quit May's top team. Investors priced out the prospect of a rate increase by the Bank of England next year, with Raab's departure in particular stoking fears of a revolt against May that may ultimately imperil the chances of the U.K. leaving the EU with a divorce deal in hand.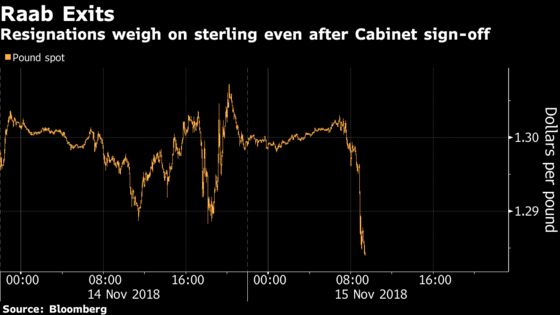 "Brexit worries are sending shock waves through the currency markets," said Credit Agricole SA head of Group-of-10 currency strategy Valentin Marinov. The pound is lower but "it seems that uncertainty could push it lower still."
Sterling dropped as much as 1.9 percent, the most since June 2017, to $1.2751. It weakened 1.4 percent to 88.24 pence per euro. The yield on 10-year U.K. government bonds dropped 10 basis points to 1.41 percent as investors sought the safest assets, with trading volumes in gilt futures about twice the average of the past 10 days.
Money markets now see the first BOE rate increase in February 2020, compared with November 2019 at the close of trading on Wednesday. Shares of Royal Bank of Scotland Group Plc, Barclays Plc and Lloyds Banking Group Plc all fell more than 5 percent, while homebuilders also declined. Bank bonds also declined, while measures of credit risk jumped.
Credit-default swaps insuring the debt of U.K. banks and insurance companies jumped to the highest levels in years, indicating deterioration in perceptions of credit quality. Subordinated contracts on RBS Group rose to the highest since May 2012, while senior swaps on Barclays increased to the highest since December 2016, according to data from CMA. Aviva Plc senior swaps rose to the highest in a year, the data show.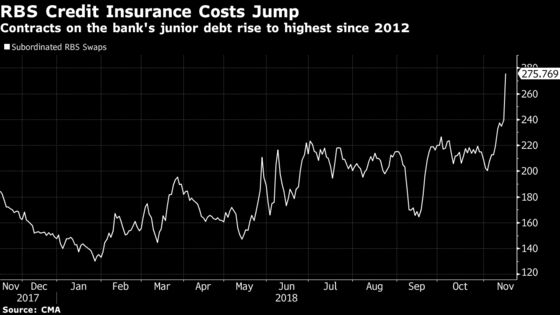 One-month pound option risk-reversals plummeted against both the dollar and euro, with the hurdle of getting the Brexit plan through Parliament still looming large even if May dodges a leadership challenge. Investors looking to bet on volatility are now set to pay a hefty price, with one-month volatility spiking to the highest since 2016.
Sterling, which strengthened 1.8 percent this month through Wednesday, could now be headed for a sustained downturn, according to Christin Tuxen, head of currency strategy at Danske Bank A/S.
"The strong November could turn to cold December for the pound," said Tuxen. "It's clearly worrying for the pound as this suggests the passing of the Brexit bill in parliament will be even more challenging for May than recent optimism might have hinted at."