U.K. Assets Roiled as Delay on Brexit Vote Sparks No-Deal Fears
U.K. markets were pummeled after Prime Minister Theresa May made an abrupt U-turn to delay the parliament's vote on her Brexit divorce deal, sparking concerns that the country could exit the European Union without a deal.
Sterling tumbled to its weakest level in 20 months, with analysts warning that the currency could slide to levels not seen since the October 2016 flash crash that took it below $1.20. Longer-dated bonds led a rally in gilts as investors pushed out the prospect of a rate increase to the end of 2020. Domestic shares also fell after May failed to set a date for the vote and vowed to step up preparations for a no-deal scenario.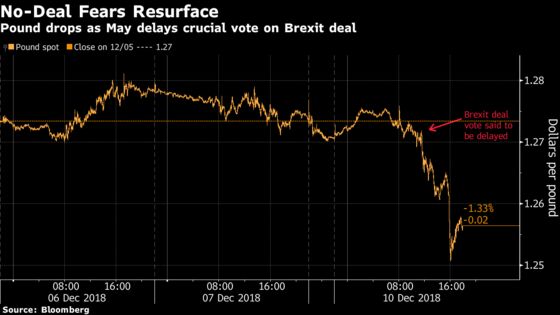 "The longer it takes, the worse it gets for sterling," said Kenneth Broux, a strategist at Societe Generale SA, who said the currency could test $1.20 by January. "Time is running out, economic and business confidence will suffer, equities are falling."
The pound slumped as much as 1.7 percent to $1.2507, the lowest level since April 2017. The euro surged 1.6 percent against sterling past 0.9000.
Still, the euro is unlikely to rise toward parity anytime soon, according to the Canadian Imperial Bank of Commerce.
"In the near term, we still think parity is a bridge too far at this point," said Bipan Rai, head of North American foreign-exchange. "Over the medium term, parity is a possibility if the data improves in the euro zone, the ECB looks set to move their rate-hike time line forward and if we see a scenario where the U.K. crashes out with no deal."
The FTSE 100 index of shares dropped 0.8 percent. The bond curve flattened, with the yield on 30-year gilts dropping as much as 17 basis points, the most since Britain voted to leave the EU, to 1.65 percent. The spread between two-year and 10-year yields narrowed three basis points to 49 basis points.
The rising chance of a no-deal Brexit if the vote is pushed back into the new year could see the yield curve invert, according to Peter Chatwell, head of European rates strategy at Mizuho International Plc.
The delay in the vote means an EU summit later in the week will be the next focus for markets. Traders had been planning to stay late at the office Tuesday in anticipation of significant price swings on the vote. May said she would try to address concerns over the Irish border and step up preparations for a no-deal scenario.
"This is very strong risk-off move," said John Wraith, head of U.K. macro rates at UBS Group AG. "The market clearly believes she will not get anything material enough from the EU to turn that scale of opposition around, so even if the vote is delayed it's going to end in the same way -- with a big defeat for the government, and the end of the Withdrawal Agreement -- but now it will happen even closer to the date of the cliff edge."