Pound Advances as Britain and EU Reach Outline of Brexit Pact
(Bloomberg) -- A trading deal the City of London has sweated over for almost half a decade looks like it's finally here -- eliciting a cheer across U.K. assets.
With Britain forging the blueprint of a deal with the European Union, the pound rose 0.5% to $1.3562 in Asian trading Thursday after advancing 1% the previous session. The yield on 10-year government bonds jumped as much as 13 basis points to 0.31% on Wednesday, the biggest intra-day increase since March.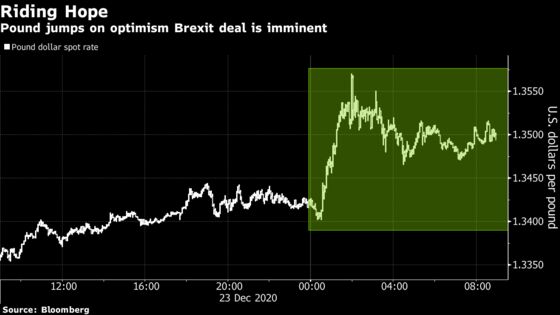 "The pound is rising on expectations for a Brexit trade deal," said Kengo Suzuki, chief foreign-exchange strategist at Mizuho Securities Co. in Tokyo. "While the risk of abrupt reversal won't be completely wiped out until the announcement, such a scenario looks highly unlikely."
The U.K. and the European Union are on the verge of unveiling a historic post-Brexit trade accord as negotiators work through the night to put the finishing touches to a compromise deal. U.K. Prime Minister Boris Johnson is expected to make an announcement on a possible deal at around 11 a.m., the Sun newspaper reported.
The FTSE 250 Index of more domestically oriented U.K. companies surged as much as 1.7% on Wednesday, while the FTSE 100 had a more muted gain of 0.7% as the pound's advance weighed on exporters. Options traders had been positioning for a deal, dragging down the cost of hedging a weaker sterling over the coming month to the lowest since Dec. 4.
Sterling could rise as high as $1.37 if a deal is finalized and Britain and the EU minimize disruption during the initial adjustment phase next year, said Lee Hardman, foreign-exchange strategist at MUFG Bank. Yet the country's weak economic fundamentals could limit gains. "Tightening economic restrictions will increase pressure on the Bank of England to implement negative rates early next year, posing downside risks," he said.
Johnson imposed tougher regulations across a swath of England Wednesday in an effort to stamp down on the mutant virus strain that's spreading quickly across the country.
"Due to the limited nature of a deal, we don't necessarily see sterling finding too much relief beyond an additional percentage point," especially as tighter restrictions look to be extended to other parts of the U.K., said Simon Harvey, a foreign-exchange analyst at Monex Europe.