Pound Losses Spur Japanese Retail Investors to Bet on Rebound
(Bloomberg) -- Japanese retail investors are getting more bullish on the pound after the U.K. currency was pummeled last week by worsening political turmoil over Brexit.
The Asian investors boosted their net long pound positions against the yen last week for the first time this month, as sterling fell 1.9 percent against the Japanese currency. The retail investors have demonstrated a tendency to buy sterling on dips in the past 12 months to bet on a rebound, according to data from the Tokyo Financial Exchange Inc.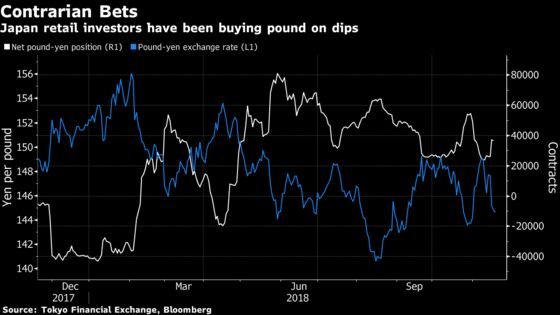 "The positioning data suggest Japanese retail investors are expecting the pound is close to the bottom," said Takuya Kanda, general manager at Gaitame.com Research Institute in Tokyo. "Uncertainty surrounding Brexit is very strong, but the pound's lower exchange rate dominates in the mind of retail investors."
Individual investors in Japan held a net 36,452 long contracts in the pound against the yen as of Friday, valued at 364.5 million pounds ($467 million), based on data from the Tokyo Financial Exchange. A healthy interest-rate carry may be one reason for the attraction.
Three-month currency forwards indicate that holding sterling against the yen gives an annualized return of around 1.31 percent, Bloomberg data showed. This compares with a yield of around 0.10 percent in the 10-year Japanese bond.