Pound Jumps, Bonds Plunge on Relief a Brexit Deal Still Possible
(Bloomberg) -- The pound posted its biggest gain in almost two months and bonds plummeted after the U.K. and European Union agreed to continue negotiating, keeping hopes for a trade agreement alive.
Sterling climbed as much as 1.7%, leading gains among all currencies tracked by Bloomberg, to $1.3446 after U.K. Prime Minister Boris Johnson and European Commission President Ursula von der Leyen agreed to go the "extra mile" and keep working on a post-Brexit accord. The EU'S chief negotiator Michel Barnier later told a private meeting of ambassadors that a trade deal with the U.K. could be completed as soon as this week.
The yield on 30-year government bonds climbed as much as 10 basis points to 0.82% as the curve steepened, while shares of U.K. lenders and homebuilders were among the biggest gainers in Europe. Meanwhile, money markets pushed back bets on a Bank of England rate cut from August to December.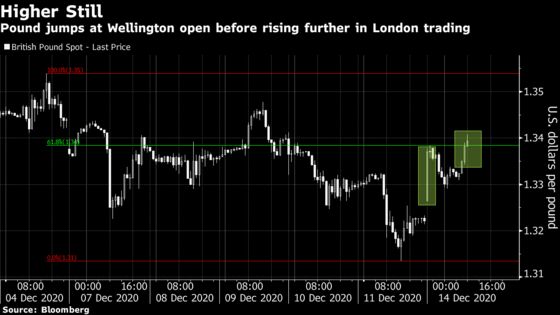 "The pound performed well and it is expected that these latest developments might weigh on U.K. front-end rates this morning, too," said Peter Schaffrik, strategist at RBC Europe Ltd. "We remain convinced, however, that even in case of a last-minute breakthrough, the economic fallout early next year will be very noticeable and expectations of BOE rate cuts will remain alive."
Officials had earlier said that negotiators had until Sunday to come up with a deal, prompting traders to position for the possibility that they'd abandon talks and the U.K. would crash out of the EU. Even if they had, it would've given clarity over an issue that has weighed on the currency for years.
Many bank strategists predicted that talks would indeed continue: market participants have become hardened by countless missed deadlines and last-minute talks around Brexit in recent years. Even though the cost to hedge swings in the pound has fallen by the most since March, it's still well above 2020's average as investors prepare to parse yet more Brexit headlines amid choppy trading, with liquidity likely to get worse as the holiday season nears.
Despite the relief rally on Monday, the relative cost to insure against a decline in the pound versus the euro over the next three weeks is still near the highest since 2016. The tenor covers Dec. 31, when the transition period for the U.K.'s departure from the EU officially ends. The technical outlook, too, suggests further advances may be sold into as a daily Bloomberg Trender Indicator flips to bearish for the first time since early October.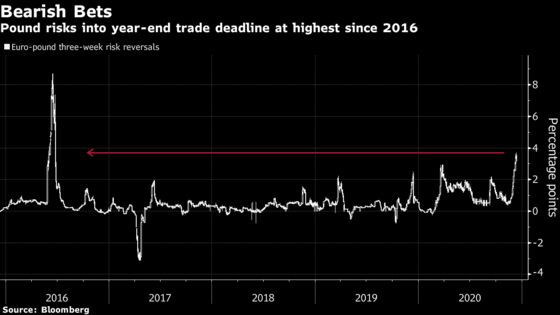 If a trade agreement isn't struck by the end of the year, decades of free movement of goods, services, people and capital will come to an abrupt end. British firms would revert to trading with the EU under rules established by the World Trade Organization in 1995. That means imports and exports to the EU would be subject to WTO-negotiated tariffs -- essentially a tax on goods. Bloomberg Economics estimates Britain's economy would suffer a near-term shock of around 1.5% of output.
Such a scenario could push the Bank of England to cut interest rates below zero for the first time ever, BofA Global Research said earlier this year.
"Some may choose to take hope in the latest deadline passing without confirmation of a no-deal," said Peter Chatwell, head of multi-asset strategy at Mizuho, who is anticipating the U.K. leaves the bloc without a new trading agreement. "What will nevertheless be causing concern is the market's ability to absorb a risk event such as Brexit is dramatically weakened given this late stage in the year."
In the event of a breakthrough in negotiations, "we expect a largely parallel move higher in yields across the curve of around 15 basis points on an eventual deal," wrote George Cole, a strategist at Goldman Sachs Group Inc. The rate on 10-year government bonds last week dropped to the lowest in two months on concern over a no-deal Brexit.
U.K. lenders including NatWest Group Plc, and homebuilders like Persimmon Plc advanced amid the rising hopes that a deal will be reached. The FTSE 100 index, which has an inverse relationship with the pound, underperformed.
The Australian dollar popped higher with its New Zealand counterpart as traders returned to their desks, with optimism the talks could yet yield a deal spurring a mildly risk-on tone. Sterling was bought heavily against the euro as traders moved to adjust positions after the pair gapped lower at the open. The common currency slipped as much as 1.2% versus the pound to 90.45 pence.