Pound Surges as Brexiteers' Biggest Threat Is Suddenly Blunted
(Bloomberg) -- Want the lowdown on European markets? In your inbox before the open, every day. Sign up here.
Investors' worst fears about Brexit are evaporating.
The pound is trading at its strongest level in almost two years versus the euro following Prime Minister Theresa May's promise to allow Parliament a vote to delay Brexit and block the prospects of a no-deal. The opposition Labour party, meanwhile, says it is in favor of a second vote on whether the U.K. should leave the European Union.
The pound is among this year's best-performing Group-of-10 currencies as investors bet that U.K.'s lawmakers will prevent the nation from crashing out of the EU without a deal and call a second referendum.
Even so, analysts remained skeptical about how much more the currency could gain following Tuesday's developments. Jordan Rochester, a currency strategist at Nomura International, said that longer-term investors aren't buying into the rally and likely won't until May's deal is done. Mizuho International expects the rally to be capped at $1.33, less than 0.3 percent away from current levels.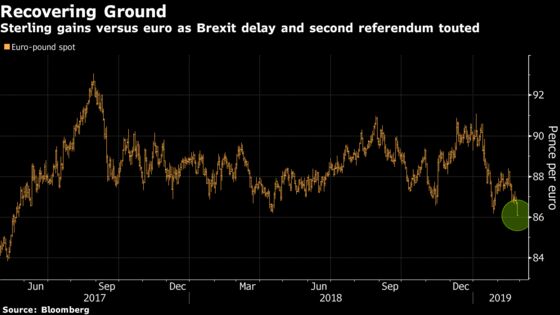 "The pound's rally this morning reflects the recalibration of two Brexit risks -- the risk of delay and the risk of a second referendum," said Adam Cole, chief currency strategist at Royal Bank of Canada. "To the extent that both reduce the risk of exit with no deal it is rational that the pound should rise, but we would be cautious about running too for with this theme."
Sterling jumped almost 1.2 percent to 85.68 pence per euro, the strongest level since May 2017. Against the dollar, it climbed as much as 1.4 percent to $1.3280, the highest since September. The yield on U.K. 10-year bonds rose three basis points to 1.21 percent. The FTSE 100 Index of shares was down 0.5 percent.
The pound would rally much more should a second referendum be confirmed than on a delay to Brexit, according to a survey of strategists conducted by Bloomberg last month. Still, it's harder to see a way to reach this outcome whereas the EU has already said it would consider allowing the U.K. more time to negotiate.
The U.K. Prime Minister told Parliament that she would only pursue a delay if there was no other option and that it should be for the shortest possible time, "not beyond the end of June." This dimmed the optimism in the market, as it is seen as merely delaying the uncertainty.