Pound Beats Euro for Aberdeen as Brexit Compromise Reduces Risks
(Bloomberg) -- The pound may be looking messy but the euro is worse.
That's according to Aberdeen Asset Management's James Athey, who is betting on the U.K. currency to gain versus the euro and reckons too much bad news is priced in for sterling. The pound strengthened Thursday as U.K. retail sales jumped more than forecast. Despite ongoing drama in parliament over Prime Minister Theresa May's flagship Brexit bill, Athey sees the compromise struck with her party's rebels this week as reducing risks.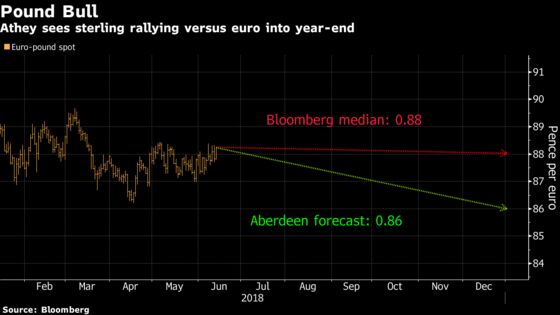 "In terms of Brexit, I expect a sensible solution to be found because it is in everyone's interest to do so, and the economy is at capacity and growing and therefore the Bank of England needs to tighten," said Athey, whose firm manages 648.5 billion euros of assets. "The noise along the way is just that."
Athey sees the pound strengthening to 86 pence per euro over the next six months and to 84 pence in a year, from about 88 pence Thursday. In March, with a year to go until the U.K. exit from the European Union, Aberdeen was more upbeat, seeing it gaining to 76 pence by year-end. Sterling has since held its ground against the common currency while falling against the dollar.
In contrast to his positive U.K. view, the fund manager sees far greater risks ahead for the euro zone. While the European Central Bank is expected to discuss an end to bond buying at its meeting Thursday, Athey expects policy makers to be forced to keep rates on hold until at least the middle of 2019 while the BOE will move to tighten policy. When the ECB does exit, the effects will be more significant, he added.
"The euro zone has had incredibly supportive monetary policy for many years now," he said. "When all that life-support retreats what we are left with is a structurally unbalanced and divergent region with even more noxious politics."